NBC's David Gregory: White House Is 'Sowing More Confusion' On Benghazi Attack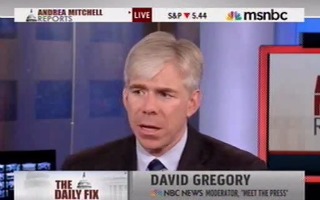 Meet the Press host David Gregory joined Andrea Mitchell on MSNBC on Friday to discuss the White House's handling of the security failures that led to the 9/11/12 attack in Libya. Gregory said that the White House was creating more confusion about their knowledge of events that led to the attack in Benghazi rather than resolving outstanding questions.

Mitchell recalled Vice President Joe Biden's answer to a question about the administration's handling of Libya during Thursday night's vice presidential debate. Mitchell said that, in that answer, Biden "threw the State Department and the CIA under the bus."
She then played a clip of White House Press Sec. Jay Carney responding to reporters' questions about Libya on Friday. Carney said that State Department officials had testified before Congress that any additional requests for security by the staff at the consulate in Benghazi never reached the president or the vice president personally, so when Biden said that there were no requests for additional security in Libya he was only speaking for himself.
"This administration is caught in a lot of different explanations," said Gregory. "The buck stops with the White House and the president on these matters."
Gregory said that ABC News' Martha Raddatz asked Biden a direct question on the matter of requests for more security at the Benghazi consulate and she did not receive a direct answer.
"They're just sowing more confusion about this rather than resolving the issue, which is creating more of an issue," Gregory concluded.
Watch the clip below via MSNBC:
> >Follow Noah Rothman (@Noah_C_Rothman) on Twitter
Have a tip we should know? tips@mediaite.com