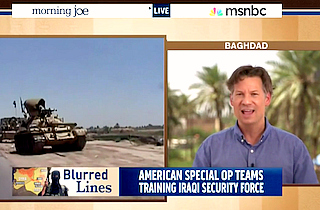 Following the White House's announcement of an extra deployment of 300 troops for Embassy security in Baghdad, NBC News reporter Richard Engel gave a woeful assessment of the Iraqi government's response to the Sunni insurgent group ISIS (or however they self-identify) on Morning Joe Tuesday morning, reporting that they were accomplishing little more than coffee breaks.
"Today the Iraqi parliament met and a lot of people here were hoping that there could be some sort of political solution that the Iraqi political parties, the Sunnis, Shiites, and Kurds could get together and start to form a new government," Engel said. "Washington is putting a lot of its hope that you can find a political avenue out of this very violent situation we're in."
"What happened was there was no political solution at all," he continued, reporting that the parliament had met for an hour, half of it spent in breaks, and did nothing more but decide to meet again in one week.
"So you have this situation where you have Iraq in a state of war, Baghdad in a state of lockdown, and the parliament suspending its meetings after an hour of — really only half an hour of actual work — accomplishing nothing," he said. "So it's not a very encouraging situation here…Some counterterrorism experts we've been speaking to think it's probably a matter of time before the U.S. starts taking some unilateral action — drones, air strikes."
Watch the clip below, via MSNBC:
[Image via screengrab]
——
>> Follow Evan McMurry (@evanmcmurry) on Twitter
Have a tip we should know? [email protected]