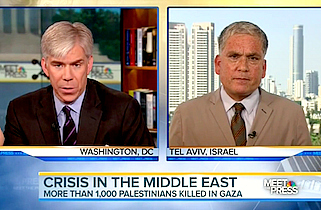 Meet the Press' David Gregory showed United Nations Relief & Works Agency spokesperson Chris Gunness video Sunday morning that purported to show rockets being fired from a UN school — which would appear to back up Israel's claim that Hamas was using the schools to mask its weapons — and asked if it proved Hamas was getting the end run around the U.N.
There were a few problems, though — the film had only just been posted to YouTube by the Israeli government, it was unverified, and Gunness couldn't even see it.
"The Israelis say — and I realize that you cannot see this video, our audience can, and I'm going to describe it to you — that [this video] purports to show rockets being fired from a UN school," Gregory said. "Is this accurate? Could this be happening without the U.N.'s knowledge that only bolster the Prime Minister's point that Hamas is using civilians, using United Nations even in a kind of propaganda war?"
Gunness wasn't having it. "To be fair to me, to bring me on a live program and expect me to comment live on air on pictures I haven't actually seen, I think anyone looking at this program would agree that's really unfair," he said.
Sure enough, by the end of the show the U.N. had weighed in and said the video did not show rockets firing from a U.N. school. Gregory issued a correction.
"An end note in a discussion about Gaza we asked a spokesman about this video which Israel claims showed rockets being fired by Hamas from a U.N. school in Gaza," Gregory said. "This is shot by the Israeli government, and that's their claim. The U.N. has reviewed it, tells us they have confirmed, in their view, the video does not show rockets being fired from U.N. administrative school in Gaza. So this is a back and forth we are not able to settle at this point." That's one way to put it.
Watch the original exchange and the correction below, via NBC News:
[Image via screengrab]
——
>> Follow Evan McMurry (@evanmcmurry) on Twitter
Have a tip we should know? tips@mediaite.com