NBC's Katy Tur: 'Growing Internal Dissent' in Trump Campaign Over Racist Comments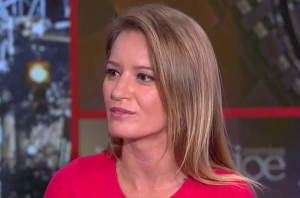 NBC's Katy Tur reported on the remarkable dysfunction of the Donald Trump presidential campaign Monday morning, saying on MSNBC's Morning Joe that he had a bare-bones campaign and what little staff he had were becoming increasingly exasperated with his bigoted language.
"He doesn't have much of campaign," she said. "He hasn't grown since he got the nomination. The campaign is saying they are currently trying to grow the operation and they will be growing the operation."
"They don't really have a communications team. Right now they have one person, Hope Hicks, who deals with the hundreds of media requests she's getting during the day, and they have no rapid response," she added.
"I've heard there's growing internal dissent," host Joe Scarborough offered.
"And there's growing internal dissent," agreed Tur. "Absolutely. And for the first time, I'm hearing inside the campaign, the same things that I've been hearing outside the campaign…"
Tur noted especially Trump aides' frustration with the candidate's frequent sexists, racist, and otherwise controversial comments. "I'm hearing aides say that this is extraordinarily frustrating to them, that they believe these are the sort of things that will end up sinking this campaign. The biggest hurdle right now is the candidate himself, because he says what he wants, no matter what they do behind the scenes," she reported.
The comments about Judge Gonzalo Curiel, she reported, was a "bridge too far" for many Trump campaign staffers. "Is it enough for them to quit and to find work elsewhere? No, not as of now," Tur said. "But they think at the same time they can hire all the people that they want, they can hire the best people if they could get them, but it doesn't ultimately matter, because Donald Trump will say what he wants."
Trump took to Twitter immediately afterwards to hit back at the Morning Joe segment, despite supposedly no longer watching the show.
People like @KatyTurNBC report on my campaign, but have zero access. They say what they want without any knowledge.True of so much of media!

— Donald J. Trump (@realDonaldTrump) June 6, 2016
Watch the exchange above, via MSNBC.
[Image via screengrab]
——
>>Follow Alex Griswold (@HashtagGriswold) on Twitter
Have a tip we should know? tips@mediaite.com