NBC's Luke Russert: IRS Official 'Winging This' In Testimony, Saying 'Hey, I'm The Fall Guy For This'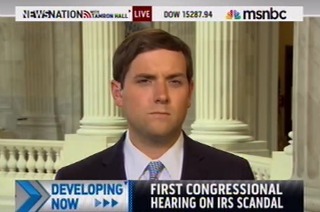 NBC News reporter Luke Russert tore into Steven Miller, the former acting Internal Revenue Service commissioner who testified before members of Congress on Friday relating to the allegation that the IRS singled out conservative groups for added scrutiny. He said that Miller appeared to be "winging this," and added that the former acting commissioner who was asked by the White House to resign may have been thinking that he was merely the "fall guy" for this scandal.

"It definitely took a partisan turn," Russert said of the House Ways and Means Committee hearing on Friday. He said that the hearing opened with a bipartisan tone before the Republican committee chairman tried to tie the IRS to the White House.
RELATED: IRS Official On Targeting Of Conservative Groups: 'It Is Not Illegal, But It Was Inappropriate'
After playing a clip of Miller's testimony, Russert said that he appeared disengaged throughout the hearing.
"He almost seemed like he was winging this," Russet said to MSBNC anchor Craig Melvin. "It really looked like, in his mind, 'Hey, I'm only here for three more weeks. I'm the fall guy for this, but to what point do I really have to put myself out there?'"
Russert concluded by noting that the Senate hearing into this scandal are likely to shed more light on how deep this scandal goes. "A lot of folks here think this is the tip of the iceberg," Russert said.
Watch the clip below via MSNBC:
> >Follow Noah Rothman (@NoahCRothman) on Twitter
Have a tip we should know? tips@mediaite.com