NBC's Mitchell to Blair: Wouldn't Iraq Be a 'Better Place' Without 2003 Invasion?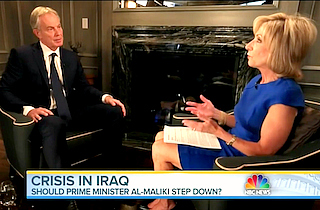 On Meet the Press Sunday morning, NBC News' Andrea Mitchell asked former British Prime Minister Tony Blair about his recent essay, in which he called the theory that the 2003 invasion of Iraq had led to the current destabilization of the region "bizarre."
"If we had not invaded in 2003, wouldn't Iraq be a very, very different place, a better place?" Mitchell asked.
"It's hard to judge," Blair replied. "Obviously, if you would ask some of the Kurds, against whom Saddam launched genocide, or people down is Basra, the Shia area, the area excluded from government, excluded from their rights of worship, they would probably say no. If you ask the people in Baghdad who have had the terrible time over the last few years, they would probably say yes."
RELATED: Gregory Grills Blair: Aren't You, Bush Responsible for Current Islamic Extremism?
"However, the purpose of what I'm saying is not a shuffle off of responsibility, I have full responsibility for what we did," Blair continued. "The important thing is to realize, this is a long-term problem. Its root cause is in this extremism. These regimes were never going to be sustained. We removed the one in Iraq, but the people removed the other ones. So in the end the question is how do we help the region, and can we help the region, to a future in which this toxic mix of religion and politics is taken out of the situation and people are allowed to have the type of government that a majority of people in the Middle East probably want?"
Watch the clip below, via NBC News:
[Image via screengrab]
——
>> Follow Evan McMurry (@evanmcmurry) on Twitter
Have a tip we should know? tips@mediaite.com