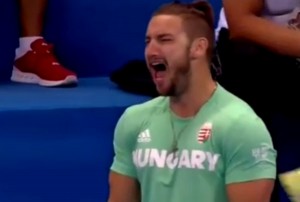 The 2016 Summer Olympics in Rio de Janeiro have already resulted in some gold medal social media outrage, and there's still a long way to go. After The Chicago Tribune had to explain why they elected to celebrate women's trapshooting Bronze medalist Corey Cogdell with the headline "Wife of a Bears' lineman wins a bronze medal today in Rio Olympics," a pair of NBC sports commentators came under fire as well.
First, on Saturday, there was NBC's Dan Hicks assigning the following praise just seconds after Katinka Hosszu set a new world record in the 400 meter individual medley:
There's the guy responsible for turning Katinka Hosszu, his wife, into a whole different swimmer.
That remark drew immediate ire on Twitter:
Newsflash: it was Hosszu in the pool. It was Hosszu who smashed a world record. But her husband is the one responsible for it? That's sexist

— Lauren Rankin (@laurenarankin) August 7, 2016
OK, so Hosszú (swimmer) shatters a world record by 2 seconds, and NBC's broadcaster gives the credit to her husband and coach. WTF? #Sexism

— Tim Gibson (@timgibson) August 7, 2016
Hosszu just smashed a world record and all NBC can talk about is her husband ? #Rio2016

— Hannah Stein (@hannahjewcy) August 7, 2016
The controversy resulted in the standard "Sorry, not sorry" from Hicks:
But after some online critics suggested Dan Hicks' commentary on Saturday's telecast was sexist, he said that "with live TV, there are often times you look back and wished you had said things differently."

…Hicks said he was painting as accurate a picture as he could of Hosszu and Shane Tusup's relationship. The swimmer has told him that she credits her husband for improving her strength training, intensity and confidence, which was shattered when she lost the same event four years ago, he said.

"It is impossible to tell Katinka's story accurately without giving appropriate credit to Shane, and that's what I was trying to do," said Hicks.
On Sunday, an unidentified NBC Olympics commentator drew fire for this comment about the overpowering U.S. women's gymnastics team:
No, NBC anchor, those female gymnasts do not look like "they might as well be standing in the middle of a mall." They are at the Olympics. ?

— Natalie DiBlasio (@ndiblasio) August 7, 2016
What's your favorite sexist moment from this year's Olympics? Let us know!
This is an opinion piece. The views expressed in this article are those of just the author.