NBC's Pete Williams: 'Highly Likely' Guardian Report On NSA Will 'Trigger A Leak Investigation' From DOJ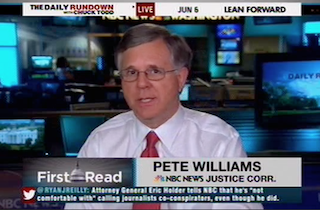 NBC's Pete Williams, during an appearance on MSNBC, said on Thursday that it's "highly likely" the story about the NSA collecting Verizon customers' phone record will trigger a leak investigation from the Justice Department — given the "sensitivity" of the matter.
"This goes to the whole — some of the campaign promises that candidate Obama made, which is about being more transparent, at least in the tactics even while keeping some parts of this stuff classified," Chuck Todd noted, "which I think as we know this is going to become an ongoing political football as well as a national security one."
"It seems highly likely this will trigger a leak investigation, which we should point out — that process, the intelligence agencies have to refer it to Justice and they have to decide," Williams said. "There is no leak investigation on this yet. We're way head of that process. It just seems likely, given the sensitivity of this document, that there will be one."
Todd sought to remind viewers that all three branches of government were updated on the matter.
Meanwhile, a senior administration official told the Huffington Post that talk of an investigation is premature:
However, a senior administration official told The Huffington Post Thursday morning that it's premature to suggest an investigation is certain to take place.

"There's been no referral yet from the intelligence community," the official said.
During Williams' earlier appearance on Morning Joe, he'd said there'd "definitely" be an investigation, which he later altered when he spoke to Todd, saying it's "highly likely."
The clip below, via MSNBC:

Have a tip we should know? tips@mediaite.com