NBC's Peter Pan Live! Draws Less Than Half the Viewers as Last Year's Sound of Music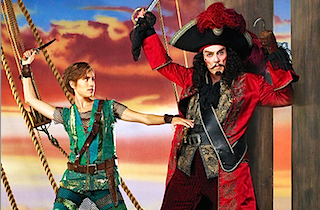 Viewers may not have liked NBC's The Sound of Music Live! very much, but when the first live musical in decades aired last December, but an astonishing 22 million people tuned in to watch it. Last night, NBC attempted to recreate the magic with Peter Pan Live! The first ratings are in and it looks like the network averaged just 9.1 million total viewers between 8 and 11 p.m. when the musical aired.
These initial numbers, also showing a 2.3 rating in the 18-49 demo, are for "metered-markets" and are likely to skew up when full Nielsen results are tallied. But nonetheless, the total will be far lower than what the network saw in 2013 for The Sound of Music starring country singer Carrie Underwood.
The instant Twitter reviews for Peter Pan Live! weren't much better, though many could admit that Allison Williams' acting as Peter Pan surpassed that of Underwood as Maria. And while Christopher Walken did not also seem to be giving 100% with his lip-syncing skills, he is undeniably fun to watch in any context. As Williams herself admitted in an interview about the project, a lot of those who did tune in were actively "hatewatching."
Reacting to the ratings in a statement, NBC president Bob Greenblatt insisted he was "pleased" with the numbers, which still more than doubled the network's yearly average for Thursday nights, and said he never expected this musical to do as well as The Sound of Music:
"We're very pleased with the Peter Pan ratings and it was a great night for NBC. We won every hour, which hasn't happened on Thursday with entertainment programming since a year ago. I'm proud to be part of a company that takes chances and creates big events, and that's exactly what we're going to continue to do.

We didn't expect to reach the same rating as The Sound of Music since that was the first live movie event of its kind in over 50 years. But the high wire act of Peter Pan was a joy for everyone involved and I take my hat off to Allison Williams, Christopher Walken, the entire company, and our incredible directors and producers for three months of the hardest work I've ever seen. I love these live events and we're already working on putting the next one together."
If you didn't tune in last night, you can watch Christopher Walken's Captain Hook at his best below, via NBC:
[Photo via NBC]
— —
>> Follow Matt Wilstein (@TheMattWilstein) on Twitter
Have a tip we should know? tips@mediaite.com