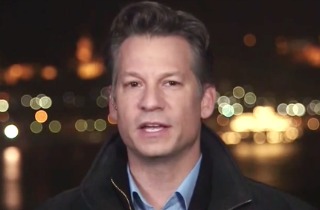 NBC foreign correspondent Richard Engel has released new details about his 2012 kidnapping in Syria which contradict his original account of the identity and affiliation of his captors.
Engel and his camera crew were held for five days and underwent "psychological torture" after being captured by who Engel originally said were militants aligned with Syrian President Bashar al-Assad and supported by the Iran Revolutionary Guard and Hezbollah.
However, the revised account, which was posted on NBC's website on Wednesday night, tells a different story. According to Engel, the kidnappers were actually part of a Sunni militant group that was allied with the Free Syrian Army.
Engel and his producers were prompted to investigate the new claims after they were contacted by The New York Times about a month ago, when that newspaper said they "had uncovered information that suggested the kidnappers were not who they said they were and that the Syrian rebels who rescued us had a relationship with the kidnappers."
Engel said he was confident in his team's original assessment of the identity and affiliation of the abductors, and that his original accounts were never called into question by U.S. officials:
"The kidnappers told us they were Shiite militiamen, members of the notorious Shabiha militia loyal to the government of Syrian President Bashar al-Assad. They spoke in a particular accent, playing Shiite chants on their cellphones, smoking cigarettes, even serving us coffee in cups decorated with Shiite symbols. I, along with two other Arabic speaking members of our six-member team, believed they were from the Shabiha."
During the new investigation, a member of Engel's team actually traveled back to the Turkey-Syria border to meet with one of the men who acted as a guard during their time in captivity. Based on conversations with this man and other sources who wished to go unnamed, Engel appended the following corrections to his original account:
The group that kidnapped us was Sunni, not Shia.
The group that kidnapped us put on an elaborate ruse to convince us they were Shiite Shabiha militiamen.
The group that kidnapped us was a criminal gang with shifting allegiances.
The group that freed us also had ties to the kidnappers.
"We have not been able to get a definitive account of what happened that night," Engel said. "But based on all of our reporting, it is clear that we were kidnapped by a criminal gang for money and released for propaganda purposes. We still cannot determine whether we were set up to be kidnapped from the start, and we have found no evidence that the Iranian and Lebanese prisoners whom we were headed to see existed."
Mediaite has reached out to NBC for further comment. We will update if we hear back.
UPDATE — 1:58 p.m. ET: NBC declined to provide further comment beyond the statement posted online.
[Image via screengrab]
— —
>>Follow Andrew Desiderio (@forza_desiderio) on Twitter
Have a tip we should know? tips@mediaite.com