NBC's Savannah Guthrie to Weiner: You're Really Saying You'll Win 'With a Straight Face?'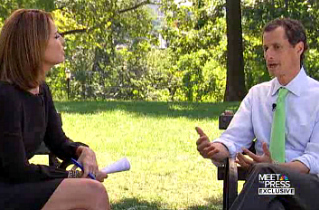 In a blistering interview Sunday morning, NBC's Savannah Guthrie excoriated New York City mayoral candidate Anthony Weiner for lying both to the public and his wife, and "embarrassing the city of New York" via his scandal-plagued run for office.
"From the moment go, I was waging this campaign on a bet," Weiner argued. "The bet was basically that I know that people have embarrassing things they would hear about me and did know about me and my background, but I also knew that I had the best ideas and I'd be the best mayor for the city."
"Are you really saying that with a straight face?" Guthrie replied.
"In the highest of the highs, the lowest of the lows of this campaign, with fifteen cameras from Malaysian TV in my face, I'm still talking about issues every single day," Weiner said.
"You were portraying yourself as someone who learned a very tough lesson, but deserved a second chance, but ultimately you left out this key fact," Guthrie said, noting that in several national profiles Weiner had portrayed himself as reformed, even including his wife Huma Abedin in the articles, despite the fact that his sexting behavior was continuing. "Does that not show a capacity to look someone in the eye and lie?"
"You have an appetite for the Huma side of the story," Weiner said. "I want to talk about what's important to the middle class."
Guthrie asked if Weiner was concerned he could have a "relapse."
"I think with help of my wife, with help of professionals, that it's behind me," Weiner said.
Watch the full interview below, via NBC News:
[Image via screengrab]
——
>> Follow Evan McMurry (@evanmcmurry) on Twitter
Have a tip we should know? tips@mediaite.com