MSNBC's Tamron Hall: Zimmerman's 'Condescending' Lawyers Changed Tone After Reading Angry Tweets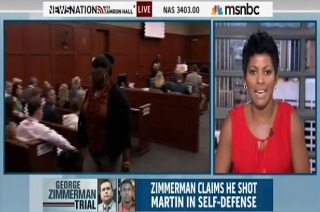 Following the close of the testimony of Rachel Jeantel, a witness for the prosecution in the trail of George Zimmerman for the 2012 murder of Trayvon Martin, MSNBC anchor Tamron Hall noticed a change in the tone of the defense attorney's line of questioning. She said that she believed that the attorney read a variety of angry tweets directed at the "condescending" tone he took with Jeantel and corrected his behavior as a result.

Hall began by playing a clip of Zimmerman's attorney's asking Jeantel if she had been coached to change her demeanor after yesterday's testimony in court.
Hall said that she thinks Zimmerman's attorneys also changed their tone after their "overreaching and condescending" cross examination of Jeantel on Wednesday.
RELATED: Travyon Martin's Friend Grilled By Defense, Says Calling Zimmerman 'Creepy-A** Cracker' Not 'Racial Comment'
Legal expert Lisa Bloom agreed that Zimmerman's attorney, Don West, did change his tone but he was generally "polite and tame."
"I've seen attorneys yelling, screaming, really going on the attack," Bloom said. "He was only aggressive a couple of times in many hours of cross examination."
"I believe, like many other people, they went online last night, read a lot of the Twitter traffic and seeing how divisive this particular witness had become – even just on social media – and honed in on that demeanor for a reason, Lisa," Hall opined.
Lisa agreed but said that she believed West was doing his job and doing it well.
Watch the clip below via MSNBC:
> >Follow Noah Rothman (@NoahCRothman) on Twitter
Have a tip we should know? tips@mediaite.com