'Need a Laugh?': CNN Reporter Hits Morning Joe for 'Lecturing' NY Times on Journalism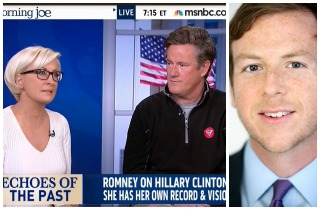 The spiraling blue-on-blue violence in the press escalated on Monday after the hosts of Morning Joe took a cautious swipe at New York Times Magazine reporter Robert Draper and his profile of Texas Democratic gubernatorial hopeful state Sen. Wendy Davis (D-Ft. Worth).
The hosts were largely complimentary toward the substance of Draper's profile, but they dismissed and mocked the overtly style in which the reporter opened his piece on Davis. This mild criticism prompted CNN's Peter Hamby to tweet his bemusement over the MSNBC hosts "lecturing" Draper on the tenets of journalism.
On Monday, MSNBC host Mika Brzezinski lamented Republicans resurrecting the scandalous affair between former President Bill Clinton and Monica Lewinsky. Brzezinski said Hillary Clinton's treatment in the press is similar to how Davis is treated in the press.
Joe Scarborough brought up the Times Magazine piece and defended the candidate from character assassination originating primarily from Davis' opponents on the right. However, he noted that the "total Hollywood take on Wendy Davis" in Draper's piece "made my head explode."
While Scarborough called is a "puff piece," Brzezinski said she found it to be moving journalism… after the first five paragraphs.
"The skies over Dallas and Fort Worth were bluer because she was a councilwoman," Scarborough mocked.
"They would not have done that on their first piece on Sarah Palin," Brzezinski agreed.
"And what if Sarah Palin had been caught playing with her bio?" Scarborough agreed. "Oh, sweet Jesus! Save her and the entire extended Palin family, because they would all be put on a rack and stretched."
And so Hamby apparently did not appreciate such criticism of Draper's piece. "Looking for a laugh?" he asked. "Here's video of the Morning Joe crew amusingly lecturing @RobertDraper about journalism."
looking for a laugh? here's video of the Morning Joe crew amusingly lecturing @RobertDraper about journalism > http://t.co/hSCsNRqu84

— Peter Hamby (@PeterHambyCNN) February 17, 2014
The implication of Hamby's tweet is that he likely does not consider MSNBC's hosts to be suited for roles as arbiters of good journalism.
Watch the offending segment below, via MSNBC:
[Photo via screen grab/CNN.com]
— —
> >Follow Noah Rothman (@NoahCRothman) on Twitter
This is an opinion piece. The views expressed in this article are those of just the author.