Neil Cavuto Asks Donald Trump 'If All This Is Just To Get Publicity For Your Book'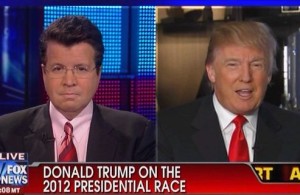 This afternoon on Fox News, Neil Cavuto not "disparagingly, just realistically" asked Donald Trump if his upcoming gig hosting a GOP presidential debate for Newsmax if really all little more than an attempt to garner publicity for his new book.
RELATED: Donald Trump Hits Back: Charles Krauthammer, George Will And Karl Rove Are 'Political Hacks'
"No, I don't think at all," said Trump. "I mean, you know, people talk. Look, I've had the number one selling business book. Here we are on a great business show, a fantastic business show that I watch all the time, but as you know, The Art of the Deal was the number one selling business book of all time. I've had twelve bestsellers. This is, frankly, a book that I'm very proud of. It's actually a book I've probably worked the hardest on."
Trump then admitted that all the attention on him right now "doesn't hurt" his book sales.
Cavuto then began to form a question about the dark times Trump faced coming out of bankruptcy, when Trump interrupted to say that he's never gone bankrupt. "On the brink, let's say," Cavuto ventured. "Neil, I never went bankrupt," Trump continued. "People say I went bankrupt, but I don't understand."
Cavuto noticed that he'd seemed to have "opened up a wound here," and gave Trump a change to explain what, exactly, had happened to his business in the early 90s.
"Nothing happened," Trump replied. "I was in trouble like almost everybody else, and I worked out my difficulties. I have some great banks that are with me to this day; they love Trump."
"I wonder whether candidates who suck up to you fear you as much as they suck up to you," said a characteristically hesitant Cavuto. "I don't think they should fear me at all," Trump replied.
He added, once again, that he'd be open to running if the Republicans don't pick the "right" candidate. Also, he has a successful show and did well in the polls before he left. Just so you know.
Watch, via Fox News:
Have a tip we should know? tips@mediaite.com