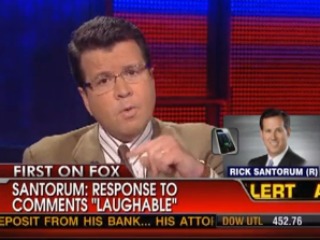 Rick Santorum entered into a shouting match on Neil Cavuto's show Friday afternoon, yelling in apparent frustration at the Fox News host after he'd been asked about his recent comment that we "might as well" have another term for Barack Obama than take a risk on Mitt Romney in the White House.
Here was Santorum's exact comment:
You win by giving people the opportunity to see a different vision for our country, not someone who's just going to be a little different than the person in there. If you're going to be a little different, we might as well stay with what we have instead of taking a risk with what may be the Etch-A-Sketch candidate of the future.
Santorum had called into the show to respond to the backlash, saying that "of course" he'd support any of the Republican candidates over Obama, he'd been simply talking about an instance where there would be "no other choice." He was blunt about his criticism of "RomneyCare," and advocated for a candidate that poses a more "stark contrast" with the President. What's more, he added, this is not anything he hasn't been saying throughout his campaign.
"Are you kidding me?!" a seemingly frustrated Santorum later asked after Cavuto wondered if he understood the motivation behind the backlash:
RELATED: Santorum: Might As Well Stay With Obama Instead Of Risking 'Etch A Sketch Candidate'
I've always said I'd never vote for Barack Obama. Are you kidding me?! What do you think I'm doing this for? You think because I like Barack Obama? I mean, it's so absurd it's not even worth printing, but you folks are all wound up…
"Senator, I'm not wound up," Cavuto responded before reading back criticism Santorum had received, including a quip about "the sweater best becoming unraveled."
"I mean, this is a made-up story," Santorum continued, "because we took 'we' being 'the people' and made it 'we' being me. That's just absurd, it's laughable. The idea that this is a gaffe is a joke."
When asked why he'd heralded Romney as a "true conservative" four years ago, Santorum once again turned to RomneyCare.
"I don't play those games," he added. "You know, I'm more focused on what voters care about."
Watch, via Fox News:
Have a tip we should know? tips@mediaite.com