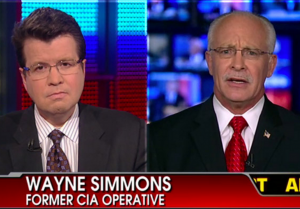 Fox News anchor Neil Cavuto closed out his Friday program by addressing the recent charges brought against and arrest of frequent guest Wayne Simmons.
On Thursday, Simmons — a featured on several Fox News programs as "terrorism analyst" — was indicted by a grand jury this week for alleged misconduct, including making false statements to the government, major fraud and wire fraud. If convicted, he could face up to 35 years in prison.
Simmons was often invited by Cavuto onto Your World with Neil Cavuto, where the supposed former CIA operative consulted on foreign policy and terrorism topics. To his own credit, Cavuto addressed the issue head-on during the closing minutes of Friday.
"In the last 24 hours, it has come to our attention that a frequent guest on this show might not have been who he purported to be," said Cavuto. "If it's true that all our due diligence and vetting on Mr. Simmons missed this, that's big, and that's on me. And only me."
"You as viewers have little reason to be comforted by the excuse that Mr. Simmons might, and I stress might, have fooled many others."
The personal nature of Cavuto's acknowledgment of Simmons' alleged actions, and his apology for exposing said actions to his Your World viewers, is a refreshing bit of honesty on 24-hour cable news television. After all, the Fox News anchor and senior vice president could have spinned the story another way, or ignored it completely.
"The responsibility to check out who comes on this show ultimately lies with me. After all, it's my Italian name on it," he said. "I apologize."
Check out the clip above, via Fox News.
[h/t CNN Money]
[Image via screengrab]
— —
>> Follow Andrew Husband (@AndrewHusband) on Twitter
Have a tip we should know? tips@mediaite.com