Neil Cavuto Responds To Robert Gibbs' Criticism With An Invitation To Your World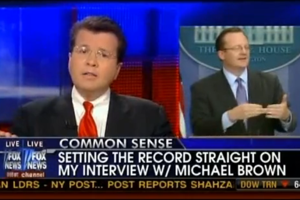 Yesterday, White House Press Secretary Robert Gibbs had some advice for Neil Cavuto, channeled through Fox News' Washington correspondent Wendell Goler: don't let former Bush administration officials propagate conspiracy theories on your show. Except Gibbs didn't quite get the theory right, which Cavuto took him to task for on today's program, along with extending Gibbs an invitation to come on the show himself.
Gibbs accused former FEMA director during Hurricane Katrina Michael Brown of suggesting that the White House deliberately set off the oil spill to impact energy policy. As our own Tommy Christopher pointed out yesterday, this wasn't quite right. "No, no, he didn't say that, Robert," Cavuto corrected him. "Michael Brown never said the administration deliberately set off the leak. Not once, not ever." He then played the clip from his program yesterday where Brown suggested a deliberate delay in the response to the disaster, not direct involvement with creating it.
Cavuto also answered a question that many– including we here at Mediaite— had upon seeing Brown on TV again after half a decade: why? In response to Gibbs' version of Brown's argument, Cavuto said:
"That is beyond laughable. Here is what is not: dismissing what Mr. Brown did say about a president who may have botched a lot since that Gulf spill, just as Mr. Brown argued the last president did in the immediate aftermath of that Gulf hurricane. He was criticizing his old boss. Mr. Brown says he has become an expert on botched responses: that is why I had Michael Brown on. Robert Gibbs seems to have done the same for botched White House pressers– that is why I invite him on."
Those are fighting words, though as amazing as it would be to watch Cavuto and Gibbs go at it in person, this prospect seems to have little viability.We'll have to wait to see how Gibbs responds, if he does.
Your World segment below:

Have a tip we should know? [email protected]