Neil Cavuto Rips Into Don Imus: It's Not The Viewer's Problem That 'Your Show Sucks'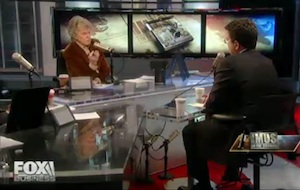 In a fiery on-air back-and-forth, Neil Cavuto razzed Don Imus for criticizing his viewership on the Fox Business Network. "My ratings are very consistent," lambasted Cavuto. "Yours are not, because people don't like you."
"I say to the viewers, 'look you bastards! You have a responsibility…'" Imus exploded.
"You called our viewers bastards — they are your life blood!" Cavuto fired back. "And you're blaming them for the fact that you might suck. It's not their problem that you're show is awful!"
"It's not awful!" countered Imus, asking Cavuto if he would prefer if they brought back the program he replaced. "Wanna go back to Money for Breakfast!?"
"You know what, I would!" Cavuto exclaimed. "Because at least with Money for Breakfast I knew what I was getting!"
"You were getting a program that sucked!" Imus boomed.
"This sucks more," Cavuto rebutted.
"I'm mad at you because you are attacking the viewers for your inability to keep them," blasted Cavuto. "That is your problem! That is not their problem! What they're saying is that 'Don Imus, you're not consistent, we're flipping you off.'"
"They have a responsibility to watch," Imus said.
"They have no responsibility to watch!" Cavuto countered.
Angered, Imus briefly shut Cavuto's mic off.
"You are an idiot!" Imus snapped.
Undaunted, Cavuto trashed the Fox Business anchor's jackets, saying viewers probably thought he was Vincent Price and said Imus's supporting anchors were doing a much better job than he was.
"They are ten times funnier than what you have ever done!" Cavuto riffed.
Watch the two Fox News personalities playfully trash each other below via FBN:

(
h/t MediaBistro
)
Have a tip we should know? tips@mediaite.com