Neil Cavuto Slams Wall Street Protestors As Being Hypocritical For Using Apple iPhones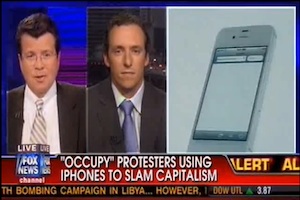 On Tuesday's edition of Fox News's Your World, Neil Cavuto interviewed Scott Martin, CEO of a diversified financial services company and conflated news of Apple's earning report with footage of Occupy Wall Street protestors using Apple iPhones. "We noticed that plenty of the protesters railing against capitalism on Wall Street, they use a lot of Apple products. Can they have it both ways?" Cavuto snarked.
"They need the product," surmised Martin. "I have been down to a lot of these protests and they are using Apple products to communicate! Which, believe me they have the right to do but it is against the foundation of what they are talking about! So, look, a lot of the kids, if you will, "bogart" — which means to borrow or use even wireless signals of the Starbucks or the Paneras that are around the corners which is, I guess, at best, hypocritical and maybe, at worst, criminal!"
With this baseless insinuation, Martin completely lost whatever argument he was making by not doing his research. First of all, there are no Panera Breads on the island of Manhattan and Martin's completely unfounded allegation that the Occupy Wall Street protestors were stealing wi-fi is a borderline slanderous accusation. A quick Google search on his part would've shown that there is, in fact, free wireless internet on site provided by Isaac Wilder, a former Grinnell student who runs The Free Network Foundation, an organization "devoted to providing free wireless service," according to a report by New York Magazine's Tim Murphy.
Cavuto also asked Martin about why the protestors didn't care about Apple making such a huge profit.
"I think it's misplaced aggression on the part of these protestors…They should be in Washington. It's not the trader's fault! They're in the wrong spot," Martin exclaimed.
The Fox News host followed up with asking Martin whether the movement was running out of steam and the Accent Asset Management CEO agreed.
"I think as it goes on and on, you learn more about the message not being clear, you're against Capitalism? Then why are you using products that are helping you organize?!" Martin argued. "And I think over time, people are seeing this less as a movement and more of a hobby…If you guys want to talk about jobs and issues with the economy – go to Washington, get somebody in Washington who will fix it. Don't blame mainstream America!"
This shoddily researched segment was underscored by the fact that Your World producers actually displayed a chyron with placeholder text! Maybe they should hire one of those tech-savvy protestors to help with their graphics department.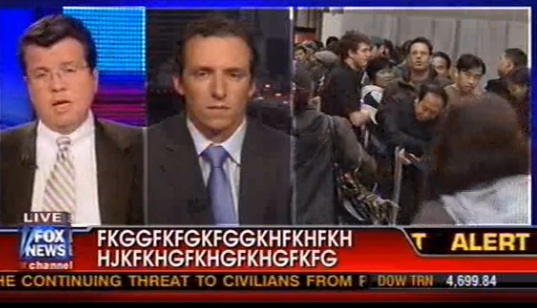 Have a tip we should know? tips@mediaite.com