Neil Cavuto To MSM: If Palin, Bachmann And Trump Are Losers, Why Cover Them?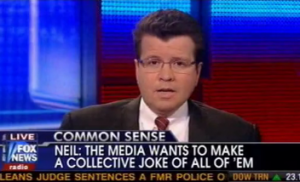 Neil Cavuto noticed the intense coverage as of late for many potential Republican presidential candidates who are often dismissed by the mainstream media as being on the "fringe." Cavuto suggested that the reason the media tries to laugh them off is because many are "seriously worried that these possible candidates aren't jokes."
Cavuto shared with his audience how when he started on Fox News, nobody took him or the channel seriously. Now that he and Fox have grown in prominence and credibility, he realized that the way he previously was treated is the the same way Republican candidates are being treated now. Cavuto suggested that the motto of the media is "if you can't beat'em, laugh at 'em and hope folks dismiss them." Yet if all the Republican candidates are clowns, Cavuto wonders why do so many news outlets continue to cover them?
The most intriguing moment came with Cavuto's not-so-subtle jab at Chris Matthews. Cavuto asked, "if one pretentious snob at another channel says Michele Bachmann looks like she's hypnotized, what is behind her hypnotic appeal on your not so appealing show?" And more generally, he questioned "if Donald Trump is a flash-in-the-plan, why do you keep flashing the same plan?" Instead, Cavuto seems to suggest that even if the media tries "to make a collective joke out of all of them along the way," one of these supposedly "fringe" candidates very possibly could emerge as the legitimate Republican nominee.
Watch the clip from Fox News below:

Have a tip we should know? tips@mediaite.com