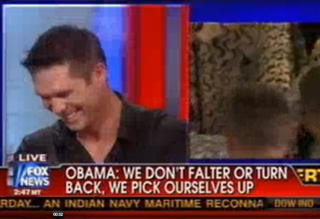 As far as eligible bachelors go, Navy SEALs have to be among the most desired son-in-laws in America right now. So can anyone really blame Neil Cavuto for not letting the opportunity to offer former SEAL Benjamin Smith his daughter's hand mid-interview go to waste? Needless to say, Smith was at least a little bit shy about the surprise matchmaking.
Cavuto was noticeably excited to have Smith on the show, though it became readily apparent he didn't just want him there for his insights on the military. "These are the people that make these events possible," he beamed, referring to the capture and killing of Osama bin Laden, adding that he was "very lucky, very fortunate, very blessed" to have a former SEAL on the program. Then he got to the flirting.
"There are two things I've been trying to work on," he said rather jokingly, but not quite jokingly enough. The two things he wanted out of Smith? "Getting his take on all of this, and seeing if he would be interested in going out with my daughter." Upon first instance, Smith laughed it off and got to the business of the day– how exhilarating it was to watch the President thank his colleagues and the glory they bring to the nation. Cavuto was only partly interested in that, however, concluding the interview with a reminder that "I'll give you the details on my daughter and her email and all that." "I'm blushing past my makeup," Smith laughed, though he appeared genuinely bashful, to Cavuto's delight. But no matter how Smith blushed through the moment, we can only imagine what the poor damsel back home must've felt like, having every teen daughter's nightmare play out on national television, during a business news program.
The awkward but adorable exchange via Fox News below:

[h/t TV Newser]
Have a tip we should know? tips@mediaite.com