Neil deGrasse Tyson: Science and Religion Are Not 'Reconcilable,' So Stop Trying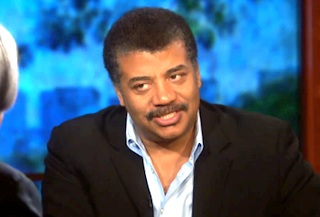 America's favorite astrophysicist Neil deGrasse Tyson sat down with PBS' Bill Moyers Friday for an extended conversation about science, religion and the universe. Addressing science teachers who want to teach creationism in the classroom, Tyson said they can worship whatever God they want as long as they "keep it out" of the classroom.
Tyson said he does not believe that faith and reason are "reconcilable" so he refuses to give credit to those who are trying to do so. "The track record is so poor," he said, "the going forward I have essentially zero confidence that there would be fruitful things to emerge from the effort to reconcile them." He went on to explain that as more scientific discoveries are made, the more "figurative" religious texts like the Bible become.
"Educated religious people are perfectly fine with that," he said. "It's the fundamentalists who want to say that the Bible is the literal truth of God and want to see the Bible as a science textbook who are knocking on the science doors of schools… Enlightened religious people are not acting that way."
Tyson said that a "free country" means that people can believe whatever they want: "Think that there's one God, two Gods, ten Gods, or no Gods." But once those people start to enter the science classroom, that's when he has a problem. "I'm not telling you what to think," he said. "I'm just telling you in the science class, 'You're not doing science. This is not science. Keep it out.'"
This March, Tyson will begin hosting Cosmos: A Spacetime Odyssey, an updated version of Carl Sagan's classic PBS program, Cosmos: A Personal Voyage.
Watch video below, via PBS:
[h/t Raw Story]
[photo via screengrab]
— —
>> Follow Matt Wilstein (@TheMattWilstein) on Twitter
Have a tip we should know? tips@mediaite.com