Neil Patrick Harris Promises Broadway Is 'Not Just For Gays Anymore' In Tony's Opening Number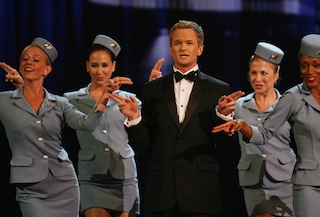 Sometimes it seems like half the goal of the Tonys every year is to trick "regular folks" into caring about the theater. And, when this year's crop of shows included output from the South Park guys, Chris Rock, and Harry Potter, and the show itself was being broadcast on CBS (your parents' network!), this year seemed like a perfect year to go for that mainstream audience. So, last night's Tony's opened with host Neil Patrick Harris delightfully pointing out the effete, blue state elephant in the room with a hilarious song (as good or better than some of the actual show tunes performed that night!) entitled, "It's Not Just For Gays Anymore!"
The song featured Harris strolling across the stage trumpeting the many elements straight people would enjoy on the Great White Way before heading into the audience to prove how many heterosexuals were there (including help from Stephen Colbert, Bobby Cannavale, and a teleprompter-adverse Brooke Shields). Here's a favorite moment from the song:
"It's not just for gays, the gays and the jews
And cousins in from out of town you have to amuse
And the sad, embittered malcontents who write the reviews
And also foreign tourists and the groups of senior citizens
And well-to-do suburbanites and liberal intellectuals
(Though that group is only really Jews and homosexuals)
I've lost my train of thought, oh yes
It's not just for gays anymore!"
The whole bit was insanely clever, well-produced, gave a hint of who was going to win all the awards that night (just listen to the audience roar at the mere sight of those dancing Mormon missionaries!), and was infinitely more clever than one of those lazy videos that green screens the host into a bunch of movies from that year in which the only joke seems to be "Hey, look! Famous people!"
Ahem, I'm looking at you Oscars and Movie Awards.
UPDATE: For those curious, the great song was written by David Javerbaum, the former executive producer of The Daily Show.
Watch the Tony's opening from CBS below:
(photo via Kevin Kane/the Tony Awards)
Have a tip we should know? tips@mediaite.com