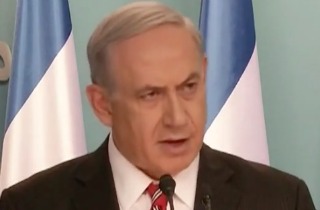 Israeli Prime Minister Benjamin Netanyahu spoke today on the current Gaza conflict. He spoke remorsefully about the deaths of civilians in Gaza––telling the assembled reporters that Israel regrets all these civilian casualties––but insisted that casualties are exactly what Hamas wants so they can prop up the dead bodies in the name of their own public relations.
Netanyahu emphasized, "The people of Gaza are not our enemy. Our enemy is Hamas."
RELATED: Israel Claims to Find Hamas 'Manual' on Using Human Shields
He said Israel has "taken extraordinary circumstances and measures to avoid civilian casualties," whereas Hamas actually wants such casualties.
"[Hamas is] a tyrannical and fanatical terror group that relishes civilian casualties. They want civilian casualties. They use them as PR fodder."
The prime minister also condemned those who would supports Israel's right to defend itself but would "refuse to… let Israel recognize that right." He said it would be a "moral mistake" that would only serve to help Hamas.
When he was asked last month about civilian casualties in Gaza, Netanyahu said that Israel really has no choice, because Hamas is firing rockets at them. He explained, "What would you do if American cities, where you're sitting now, were absorbing hundreds of rockets, you know what you'd say? You'd say to your leader, a man's gotta do what a man's gotta do, and a country's gotta do what a country's gotta do."
Watch the clip below, via Fox News:
[image via screengrab]
— —
Follow Josh Feldman on Twitter: @feldmaniac
Have a tip we should know? tips@mediaite.com
Josh Feldman - Senior Editor