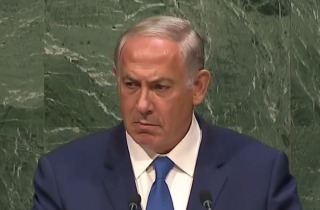 Israeli Prime Minister Benjamin Netanyahu blasted the United Nations and its member governments on Thursday for their "utter silence" on Iran's threats to his country's people and existence, and paused for almost a minute while he stared silently around the room.
Netanyahu, speaking at the UN General Assembly, listed various threats to Israel's security made by top Iranian leaders, and called out the UN for endorsing the Iran nuclear deal in the face of anti-Israeli sentiments.
"Seventy years after the murder of 6 million Jews, Iran's rulers promise to destroy my country, murder my people; and the response from this body — the response from nearly every one of the governments represented here — has been absolutely nothing," a defiant Netanyahu said. "Utter silence. Deafening silence."
The Israeli leader then paused for about 45 seconds to further illustrate his point, during which he stared around the silent room.
"Perhaps you can now understand why Israel is not joining you in celebrating this [Iran nuclear] deal," he continued. "If Iran's rulers were working to destroy your countries, perhaps you'd be less enthusiastic about the deal."
Netanyahu has been a vocal critic of the agreement that was reached among the U.S., five world powers, and Iran in July, claiming it would threaten the survival and security of his nation. Israeli leaders had demanded that the deal include a provision requiring Iran to recognize Israel as a state, but President Barack Obama called that a "fundamental misjudgment."
The issue has been a contentious topic on the campaign trail, with Republicans unanimously in line with Israel in opposition to the deal. President Obama and Democrats maintain their position that the agreement would block every pathway Iran could use in order to attain nuclear capability. In exchange for inspections and restrictions on Iran's nuclear program, the deal also includes the lifting of sanctions that have crippled Iran's economy for years.
Watch the video above, via CNN.
[Image via screengrab]
— —
>>Follow Andrew Desiderio (@desiderioDC) on Twitter
Have a tip we should know? tips@mediaite.com