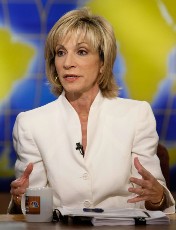 Which reporter logged the most minutes of air time during from 2000-2009?
The honor goes to Andrea Mitchell of NBC, according to the invaluable resource that is Andrew Tyndall's TyndallReport.com. Here's a full breakdown.
Michell currently serves as Chief Foreign Affairs Correspondent for NBC, as well as anchor of the 1pmET Andrea Mitchell Reports on MSNBC. Tyndall reports she had 2,416 minutes of air time on the NBC Nightly News – an astonishing figure. Right behind are her colleagues Robert Bazell, with 2,328 and Pete Williams, with 2,280.
Here are the top 10:
NBC Andrea Mitchell Diplomatic 2416
NBC Robert Bazell Medicine 2328
NBC Pete Williams Justice 2280
CBS David Martin Pentagon 2096
NBC David Gregory White House 2082
NBC Lisa Myers Capitol/Investigative 2069
CBS Jim Axelrod White House 1960
NBC Jim Miklaszewski Pentagon 1829
NBC Anne Thompson Domestic/Environment 1758
CBS Anthony Mason Economy 1697
One thing this shows is NBC and CBS have kept their reporters on the beat for longer than ABC News and ABC World News, which has seen far more turnover (with Dan Harris coming in at #11).
When looking at the top stories of the decade on the evening newscasts, ABC comes up again. The #1 story by far covered by each network was the war in Iraq (invasion, combat all added together). CBS spent 2,329 minutes on the story, followed by NBC with 2,149 and ABC with 1,967. It's hard to find which stories ABC made up the slightly less time it had covering the Iraq War story. They spent more time on Pres. Obama's 2008 campaign, Tornadoes and TARP, but only very marginally.
Either way, it's fun to look at – check out TyndallReport.com for more.
—–
» Follow Steve Krakauer on Twitter
Have a tip we should know? tips@mediaite.com