Networks That Went to Town on Limbaugh for Slut Remark Said Nothing About Bashir, Study Finds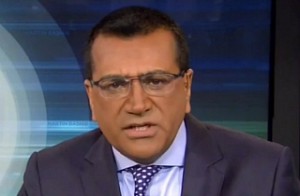 Remember how there was an insane amount of network and cable news coverage about Rush Limbaugh calling Sandra Fluke a slut? Well, the conservative media watchdog group Media Research Center compared how the media covered that outrageous remark last year to how they covered Martin Bashir's disgusting comments about Sarah Palin just last month. And what they found was absolute silence on the issue of the latter.
Bashir's comments were met with little fanfare or public action from MSNBC, but with much outrage from the right, and with the Limbaugh outrage in the media's rearview mirror, the Media Research Center found the coverage disparity striking.
When Rush Limbaugh called Sandra Fluke a "slut" the Big Three (ABC, CBS, NBC) networks went ballistic, making the conservative talk show host a centerpiece in their campaign to tarnish Mitt Romney and the GOP as engaging in a "war on women." However when MSNBC's Martin Bashir launched his own war on women against Sarah Palin, not a single anchor or reporter from the Big Three said a word about his vile attack.
The report cites 32 stories the big three networks ran on Limbaugh, contrasting it with the total lack of stories on Bashir in the two weeks following his initial remarks.
Washington Post blogger Erik Wemple took on the comparison, agreeing that while the outrages are "similar enough to occupy the same fruit basket," Bashir is not very well-known amongst the American public, but on the other hand, his target was a lot more high-profile than Limbaugh's.
[photo via screengrab]
— —
Follow Josh Feldman on Twitter: @feldmaniac
Have a tip we should know? tips@mediaite.com
Josh Feldman - Senior Editor