Nevada 'Bunny Ranch' Pimp And Prostitute Tell Napolitano Why They Love Ron Paul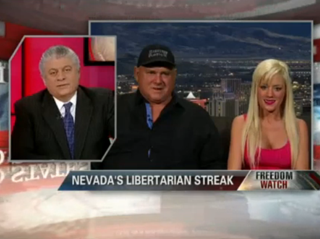 In his personal life, Rep. Ron Paul is known for being a conservative family man that opposes most excesses, but by virtue of being a libertarian candidate, he attracts supporters from all walks of life. This week on Freedom Watch, Judge Andrew Napolitano spoke to two of those supporters, employees at Nevada's "Bunny Ranch" who believe that Rep. Paul is "the modern-day Thomas Jefferson" and trust his ability to lead.
Dennis Hof, the Bunny Ranch's pimp, told Judge Napolitano that, in fact, some of the prostitutes do not prefer Rep. Paul overall, but they have been dissuaded as news came out about their favorite. "The girls like Newt, but Newt's a cheater!" He noted that he had nothing against cheaters "at the ranch, but he is too over the top." Hof went on to explain that Rep. Paul "gets it" even though "he's not pro-prostitution, he's not pro-marijuana," but he doesn't think it's his place to stop people from using or doing either.
Cami Parker, a worker at the ranch, added that Rep. Paul was "the modern-day Thomas Jefferson" and while "I may not agree with drugs or with abortion personally, I agree that everybody should make their own choices." Hof explained his relationship to the rest of the community, to shed light on the impact of a brothel in a community, and he noted that there was little opposition to the enterprise because "we give back to the community."
Both Hof and Parker also had passionate opinions about someone else in the race, sort of: Donald Trump. "Donald Trump and his arrogance is not going to help Mitt Romney because we don't want to hear it." Parker agreed, noting that no one actually likes Donald Trump in the west and that he will have a negative impact on Romney's campaign.
The interview via Fox Business below:

Have a tip we should know? tips@mediaite.com