New Black Panther Chief Malik Shabazz Explains The 'Kill White Babies' Comment"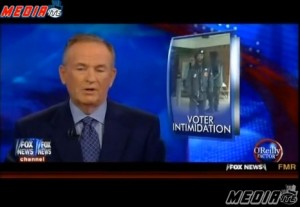 As Steve Krakauer notes, this week is the New Black Panthers' regularly scheduled moment in the sun. The organization has been trotted out by the right several times, always with a seemingly common objective: to create a creeping Black Menace, and conflate it with Barack Obama's America.
Bill O'Reilly and Andrew Breitbart have been promoting a very disturbing clip of King Samir Shabazz, the man charged with wielding a nightstick at a Philadelphia polling place, advocating the killing of white babies. In part 2 of my interview with NBPP Chairman Malik Zulu Shabazz, he gives a nearly-as-disturbing explanation, while also correcting the record.
Both Breitbart and O'Reilly erroneously state that charges against King Samir Shabazz were dropped. In fact, the Justice Department dropped charges against the New Black Panther Party, its Chairman, and poll watcher Jerry Jackson, but gained an injunction against King Samir.
O'Reilly gets a bunch of things wrong in his segment, not only calling for the Obama DOJ to prosecute someone who has already been prosecuted, but stating repeatedly that there were 3 New Black Panthers at the Philadelphia polling place.
Finally, most reporting on this case has included commentary to the effect that there was no clear rationale given for dismissing charges against the Party, its Chairman, and registered poll watcher Jerry Jackson. This is simply not true. Lawyers for the DOJ Civil Rights Division drafted a detailed memo outlining the legal basis for the dismissals.
Elsewhere in my interview with New Black Panther Party Chairman Malik Zulu Shabazz, he disclosed that King Samir had been reinstated to the Party after a long suspension. I asked him to explain the white babies remarks, and his response was jaw-dropping.
I'll be posting the full interview later, along with some more details about this case.
Have a tip we should know? tips@mediaite.com