New CNN Chief On Network's Changing Mission: 'Broaden The Definition Of What News Is'
New CNN Chief On Changing Mission: 'Broaden The Definition Of What News Is'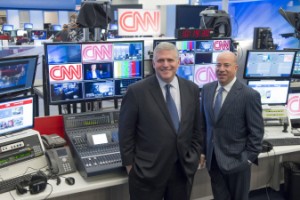 On Thursday, CNN announced that former NBC programming chief Jeff Zucker would assume the role of president of CNN Worldwide. Zucker held a conference call for media reporters where he outlined what he believes should be the cable news network's changing mission in a diversified media environment. Among the programming changes that Zucker hopes to usher in when he joins the network in January is to "broaden the definition of what news is."

"News is about more than politics and war, we need to broaden that definition of what news is, while maintaining the standards of CNN's journalistic excellence," Zucker told reporters on the conference call.
Turner Broadcasting Chairman Phil Kent followed up that the cable network had previously broadcast general interest programs that focused on subjects like sports, fashion and technology. He said that the network would revisit those and other similar concepts.
Zucker's top priority will, however, be revamping the networks prime time lineup.
"In my mind it is probably more important than ever, in a place where partisan politics has been so loud," said Zucker. "But the fact is if we allow our competition to be defined only by the partisan cable networks, which is a mistake."
"We have to remain true to the journalistic values that are the hallmark of CNN, and also continue to broaden the definition of what news is," he added. "Our competition is not just Fox and MSNBC."
Kent concluded by noting that increasing the ratings of CNN's morning programming is also an immediate priority. He noted that Zucker's experience bringing NBC's Today to the number one show in its timeslot for 16 years will be a real asset moving forward.
Read the full article via Media Bistro
> >Follow Noah Rothman (@Noah_C_Rothman) on Twitter
Have a tip we should know? tips@mediaite.com