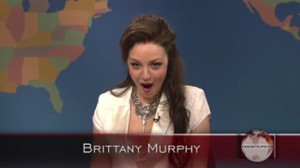 With the news of Brittany Murphy's death at the age of 32, people will inevitably begin looking for public signs of the actress' recent slip.
After reports Murphy had been fired from her upcoming movie The Caller for bad behavior, Abby Elliott portrayed Murphy on Saturday Night Live just two weeks ago – a sketch that takes on a new context in light of the weekend's events.
The short portrayal took place as part of Weekend Update on the December 5 show (here's a transcript). It begins with "Murphy" confused about why she's there in the first place ("Seth, I'm really honored to be here, hosting Saturday Night Live") and continues to have her lay out a half-baked plan to sabotage her movie. It's a fairly random and devastating parody – and especially devastating now, in light of Murphy's death.
Danny Groner wrote about the circumstances leading up to Murphy's death on The Huffington Post, and noted the Hulu clip of the Murphy segment was removed by Hulu at around 9pmET last night.
That seems to be the SNL reaction, for now. The awkwardness that ensues leads to headlines like this, from EOnline.com: "When Saturday Night Live Killed With a Brittany Murphy Gag." Fairly harsh, especially for a channel's website that is going to be part of the NBCU family soon.
Here's the SNL sketch from two weeks ago (until it gets removed) and below, a recent late night talk show appearance by the actress herself:

In April, Murphy appeared on CBS' Late, Late Show with Craig Ferguson, using an Irish accent for the entirety of an interview, unexplained by the actress. Gawker asked at the time if it was "drinking or nerves" that led to this. Here's an exchange from that interview:
Ferguson: Do you (makes drinking motion)?
Murphy: Look at me normally, I don't need that.
F: Ah yeah.
M: I don't like the way it makes me feel. I like to stay grounded.
F: Really? This is grounded?
This, like many recent public appearances by Murphy and, well, people pretending to Murphy, will now and forever be viewed in a new, sad light. Here's the full interview in April:
—–
» Follow Steve Krakauer on Twitter
Have a tip we should know? tips@mediaite.com