New Details Revealed In Santa Monica Shooting: Suspect Could Have Fired Up To 1,300 Rounds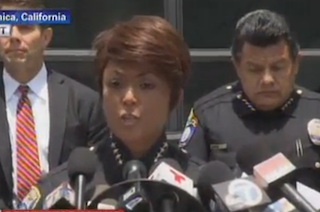 Santa Monica Police Chief Jacqueline Seabrooks updated the public twenty-four hours after a shooting on Santa Monica College campus left four dead and one person gravely injured.
Seabrooks released more information about the suspect, though she would not reveal his identity, as next of kin have not been notified and in fact may be out of the country.
"The suspect was dressed in black," Seabrooks said, "including a non-load bearing vest, meaning it didn't have ballistic panels in it but it was capable of carrying the same. He was armed with a .223 semi-automatic rifle, similar in type to an AR-15. He possessed multiple loaded magazines. As he progressed through the campus it's important to note he dropped the large bag which contained additional loaded magazines, a handgun, and the upper receiver for a semi-automatic rifle."
Seabrooks estimated that the type and number of magazines meant the suspect could have fired up 1,300 rounds had he not been stopped.
"We will confirm at this point the Police Department did have contact with the individual in 2006," Seabrooks said. "However, because the individual was a juvenile at the time, I'm not at liberty to discuss the circumstances of that contact. I'm aware that this individual and potentially a family member who may have been involved in the circumstance were recently enrolled at Santa Monica College as recently as 2010."
Though she would not comment on the suspect's motives, she did intimate that the attack was premeditated.
"I would presume any time someone puts on a vest of some sort, comes out with a bag full of loaded magazines, has an extra receiver, a handgun and a semi-automatic rifle, carjacks folks, goes to a college, kills more people and has to be neutralized, I believe that's premeditated," Seabrooks said.
Though President Obama was nearby, Seabrooks said his presence did not hinder law enforcement response, and may have even provided additional resources.
Watch the press conference here, via CNN:
—
>> Follow Evan McMurry (@evanmcmurry) on Twitter
Have a tip we should know? tips@mediaite.com