New Documents Raise Questions About George Zimmerman's Relationship With Sanford Police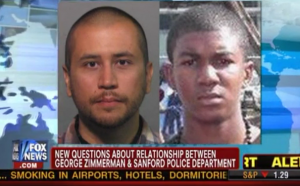 Piece by piece, we in the public have been trying to put together a more complete picture of the Trayvon Martin case. The latest piece of this complex puzzle: two exchanges that shed some light on George Zimmerman's relationship with Sanford police. At a public meeting in January 2011, Zimmerman said he found police behavior "disgusting."
In a Fox News segment about the developments, Megyn Kelly noted that the police department has been widely criticized for its handling of the case. Earlier, Zimmerman emailed the then police chief, praising the department's "professionalism" and the neighborhood watch chief.
Now, we've also learned that Zimmerman said he rode along with the police department, which police haven't confirmed — but Fox found his application for doing so. Zimmerman's intent was to "solidify my interest in a career in law enforcement."
After that ride along, at a community meeting, Zimmerman's words about the police department were much less kind. Said Zimmerman, at the time:
"I also have had the opportunity to take ride-alongs with the city of Sanford Police Department and what I saw was disgusting. The officer showed me his favorite hiding spots for taking naps, explained to me that he doesn't carry a long gun in his vehicle because in his words, 'Anything that requires a long gun requires a lot of paperwork, and you're going to find me as far away from it.' He took two lunch breaks and attended a going-away party for one of his fellow officers."
There's also footage of Zimmerman walking around the police department, without an escort. Martin's family attorney said all of this is evidence that Sanford police knew Zimmerman and gave him preferential treatment. On the flip side, others argue that Zimmerman's publicly criticizing police would make them less likely to give preferential treatment.
Take a look, via Fox News:

Have a tip we should know? [email protected]