New Police Video Shows George Zimmerman Unscathed On Night Of Trayvon Martin Shooting
Police Video Shows Zimmerman Unscathed On Night Of Trayvon Martin Shooting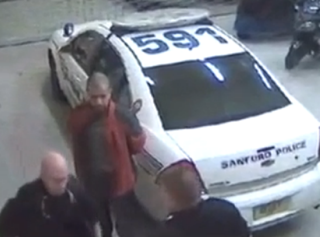 ABC News has obtained exclusive video of Trayvon Martin shooter George Zimmerman on the night he shot the Florida teenager, speaking to police. While there is no audio, the video is key evidence, particularly to a public without access to police records other than what has been revealed, because Zimmerman appears healthy and unscathed, when a police report surfacing (and his attorney) claimed Martin had injured Zimmerman's nose and skull.

RELATED: Zimmerman Attorney To Anderson Cooper: Trayvon Martin Broke My Client's Nose
The video shows police taking Zimmerman, handcuffed, out of the police car and speaking with him for some time calmly. Zimmerman's face is visibly unharmed and, even moreso, his skull appears unscathed despite the fact that his attorney Craig Sonner, told Anderson Cooper he had a wound that almost needed stitches. ABC News explains:
The surveillance video, which was obtained exclusively by ABC News, shows Zimmerman arriving in a police cruiser. As he exits the car, his hands are cuffed behind his back. Zimmerman is frisked and then led down a series of hallways, still cuffed.

Zimmerman, 28, is wearing a red and black fleece and his face and head are cleanly shaven. He appears well built, hardly the portly young man depicted in a 2005 mug shot that until a two days ago was the single image the media had of Zimmerman.

The initial police report noted that Zimmerman was bleeding from the back of the head and nose, and after medical attention it was decided that he was in good enough condition to travel in a police cruiser to the Sanford, Fla., police station for questioning. His lawyer later insisted that Zimmerman's nose had been broken in his scuffle with 17-year-old Martin.
On the attorney's front, he admitted he had not even seen Zimmerman in person the last time he was on television (and before marking history as the first man to drive Lawrence O'Donnell into a lengthy tirade against a chair), so he may have been going by a phone interview. But the police's account of that night, as found by the Orlando Sentinel, corroborated Sonner's story. And yet, this video seems to defy that.
What do you think? Watch the video via ABC News below:
Have a tip we should know? tips@mediaite.com