New Poll Results: More Than Half Of Americans Disapprove Of Obama's Job Performance
More Than Half Of Americans Disapprove Of Obama's Job Performance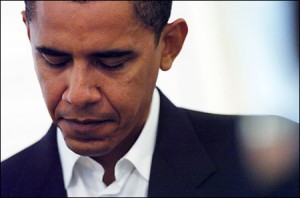 A new ABC News/Washington Post poll released today reveals that more than half of Americans surveyed now disapprove of the job performance of President Obama. Roughly six out of ten have a negative view on the White House efforts to help the economy and create jobs. The only possible solace that the administration can take from this poll is that those polled still blame the GOP more than the President.
Writing for the ABC News blog Julie E. Phelan, and Gary Langer report:
Those results and others underscore the depths of this summer of economic discontent. With unemployment stubbornly over 9 percent, 77 percent say the country is headed seriously off on the wrong track, up 17 points this year to the most since the end of George W. Bush's presidency.

In a further sign of the deep hazards to Obama, Americans by a 2-1 margin, 34 percent to 17 percent, now say his administration's efforts have done more to harm rather than help the nation's economy. The number who say his economic program has improved the economy has plummeted by half since January. And 47 percent say it's had no effect.

Obama has scheduled a major address on the employment situation Thursday evening before a joint session of Congress. He'll face a tough public audience: In this poll, produced for ABC News by Langer Research Associates, a record 62 percent disapprove of his work on the economy, as many disapprove of his work on job creation specifically, and by 50-45 percent slightly more describe themselves as pessimistic rather than optimistic about employment in the year ahead.
Watch Jake Tapper's report on Good Morning America below, courtesy of ABC News:
Have a tip we should know? tips@mediaite.com