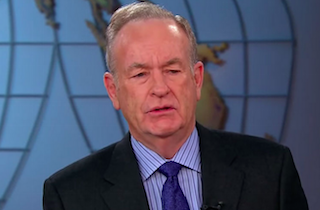 Not long after Fox News' Bill O'Reilly published his best-selling book, Killing Kennedy
, reporters began questioning an anecdote he told about hearing a friend of Lee Harvey Oswald commit suicide while standing on his front porch in Florida.
Now, Edward Jay Epstein, the author of Legend: The Secret World of Lee Harvey Oswald
, has penned an essay for Newsweek that claims O'Reilly's account is "impossible."
"I was recently bemused to see that Bill O'Reilly, the Fox News host, managed in 2012 to parachute himself back in time to March 29, 1977 so as to make himself a witness to the gunshot that killed George de Mohrenschildt," Epstein write is his piece. He asserts that O'Reilly's version of events "suffers from a reality deficiency disorder," adding, "How do I know? I was the actual — and only — reporter interviewing de Mohrenschildt on the last day of his life in 1977."
According to Epstein, he was interviewing de Mohrenschildt on March 29 and a couple of hours after the broke for lunch, the man was found dead from a self-inflicted shotgun wound "at the home of C.E. Tilton in the nearby town of Manalapan, Florida."
Epstein writes:
For one thing, O'Reilly put himself at the wrong house. He writes he was on the steps of the home of de Mohrenschildt's daughter when he heard the shot. But de Mohrenschildt was not at his daughter's home (158 Villa Longine in Mexico City); he was at Tilton's home in Florida.

Another minor problem is O'Reilly's claim to have been an ear-witness to the death. In the 2013 version of his book for younger readers, he wrote: "As I knocked on the door, I heard a shotgun blast. He had killed himself." According to the police report, however, no one inside or outside the house heard the shot (which was fired in the second-floor hallway outside Nancy Tilton's bedroom).
Later, he adds:
O'Reilly's depiction of his phantom-like presence at the crime scene is odd for another reason. If he had heard the gunshot, as he claims, he must have realized that he was an ear-witness to a possible murder of an important figure in the JFK assassination. It would stretch credibility to believe that a reporter as earnest as O'Reilly would flee the crime scene without reporting what he had witnessed to anyone for 35 years.
Epstein's version of the events corresponds to the reporting of former Washington Post editor Jefferson Morley, who published audio tapes of O'Reilly learning of the suicide from his source, investigator Gaeton Fonzi, and saying he plans to travel from Texas to Florida the next day.
"These recordings, which were made by Fonzi, appear to put O'Reilly 1,200 miles away from the death scene in Florida," Epstein said. "How could O'Reilly be in two places at the same time, one may ask?"
When Mediaite first asked O'Reilly's publisher, Henry Holt and Company, to respond to these apparent inconsistencies, they sent over a short statement reading, "We fully stand behind Bill O'Reilly and his bestseller 'Killing Kennedy' and we're very proud to count him as one of our most important authors."
But today, they have pointed us to another account from former WFAA-TV reporter Bob Sirkin, who says he accompanied O'Reilly on his trip to Florida in March 1977. Unlike the narrative put forward by the audio tapes and Epstein's account, Sirkin claims that he and O'Reilly traveled to Florida before the suicide, arriving "early in the morning" on March 29, after receiving a tip from Fonzi that de Mohrenschildt was being interviewed by Epstein that day.
Sirkin says that he and O'Reilly interrupted Epstein's interview with de Mohrenschildt and were escorted off the premises of the hotel where it was taking place by security at Epstein's request. At that point, Sirkin says he and O'Reilly split up, with the future Fox host going to the house in Manalapan where de Mohrenschildt's body was later found.
"It remains preposterous for anyone to claim that O'Reilly and I were not in Florida before, during, and following de Mohrenschildt's death," Sirkin concludes.
Sirkin appears to have told the same story in a comment on the JFK Counter Coup blog in September 2012. However, in that version, a day passed between the hotel incident with Epstein and the suicide.
Without the audio recording, this story would mostly be a case of O'Reilly and Sirkin's word against Epstein's, about incidents that occurred nearly 40 years ago. But on the tape, Fonzi can clearly be heard informing O'Reilly about the suicide, after which O'Reilly says, "I'm coming down there tomorrow. I'm coming to Florida."
O'Reilly is likely to address these new developments during the first segment of The O'Reilly Factor tonight. Mediaite will be covering that response as it happens.
Watch CNN's report, including audio of the O'Reilly tapes, below:
UPDATE — 8:17 p.m. ET: O'Reilly responded briefly to these new developments on his show Monday night. Watch video below, via Fox News:
[Photo via screengrab]
— —
>> Follow Matt Wilstein (@TheMattWilstein) on Twitter
Have a tip we should know? tips@mediaite.com