New Report On MSNBC Reveals Tucker Carlson Brought In Maddow, Pres. Phil Griffin Mocked Olbermann, Joked He Was A 'Virgin'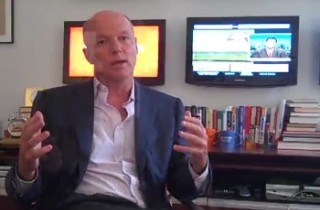 The television news world is an interesting place right now, as is evident in the numerous stories about mornings shows and staffing shakeups. Much of the discussion about the latter has focused on CNN, where Jeff Zucker has taken the reins, but a new story by Rebecca Dana in The New Republic takes a closer look at another network executive: MSNBC President Phil Griffin.
Speaking about the cable news "battleground," Griffin recalled the days when MSNBC was trying to find its identity after a period of aiming become a better version of CNN. Following 9/11, when news networks "competed to see who could be the most patriotic," MSNBC became more opinionated. Looking at Fox News' success, Griffin remembered thinking, "Well, maybe we should be conservative."
That approach didn't work, to say the least ("In 2003, NBC was considering pulling the plug altogether"), and while MSNBC did regain its footing, it was essentially a case of luck. Cue Keith Olbermann:
Right after Hurricane Katrina, in the summer of 2005, Keith Olbermann delivered a "Special Comment" at the end of his show about the Bush administration's incompetence. Even though it was an instant sensation, picking up millions of hits online, Griffin demanded that Olbermann stop. Having his temperamental star fulminate against the White House for nine uninterrupted minutes at 8:50 p.m. wasn't his idea of a perfect lead-in to Rita Cosby. But Olbermann, being Olbermann, persisted, eventually earning himself the designation of "truth teller of the year" in Rolling Stone.
"Haphazardly, and often over Griffin's initial skepticism," MSNBC began to develop, which leads Dana to chronicle the start of one of network's current stars, Rachel Maddow — whom Tucker Carlson's team introduced in 2005.
Maddow wasn't Griffin's style—she didn't look like a Fox blonde—but Carlson insisted that she stay on, and Maddow quickly proved herself to be erudite and winning on-air.
Later in the lengthy piece, Dana focuses on a different aspect of Griffin: Those who describe him as "undependable and cold-blooded," as "vicious behind closed doors." Noting that no one is safe from Griffin's gossip, Dana presents Olbermann as an example. Having worked together for over a decade, the relationship between the two was largely a good one — but that didn't make Olbermann an exception to Griffin's teasing behind his back.
To colleagues, he made fun of the way he wore his pants. He joked that he was a virgin. He employed every cutting expletive he knew and even invented a couple. "Listen, I can have salty language," Griffin says. "It's not like we all went down to the bar and told stories. Was Keith the central topic of conversation for everybody in this building? Yes. Did stories get whispered around? Was I at the center of all of it because I looked after Keith? Yes."
Yikes.
Olbermann, of course, is long gone from the network (and from Current TV, where he went following MSNBC). Present day at MSNBC, Griffin offered optimism both about ratings ("'All I know is I kicked CNN's ass without Jeff Zucker,' Griffin says. 'Now I gotta kick his ass, too.'") and the network's development (the "MSNBC lifestyle" brand).
Ratings wise, Zucker's clearly not the one Griffin has his sights on. That would Fox News boss Roger Ailes: "Fox still gets more than two million a night, but Griffin, optimistically, believes he can beat Fox by 2014." Beating Ailes, Dana writes, is "his life's ambition."
While "Fox executives mostly laugh" at that thought, Ailes did have some kind words for his MSNBC counterpart.
"I'm fond of Phil Griffin," Ailes told me. "He's like the guy next door who wants to borrow your lawnmower. And he does a pretty good job of managing that mean-spirited circus over there."
"But let's be honest," he added, "he built his whole career out of being in Jeff Zucker's wedding party."
Read the full story here.
Have a tip we should know? tips@mediaite.com