New Ron Paul Ad Calls GOP Opponents "Little Shih Tzus" And Features Exploding Fed Agencies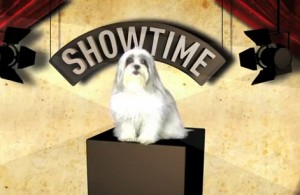 The Ron Paul campaign has debuted another attention-getting ad (which may or may not have been inspired by this columnist) which will air in Iowa and New Hampshire in the coming weeks. The spot plays like a commercial for a Truckasaurus show, with a narrator that calls Rep. Paul's Republican rivals "little shih tzus," and features literal detonations of federal agencies. The amped-up production and edgy entendres are gripping, but how will it play in Keokuk?
This may just be a coincidence, but I did begin a column on the resurgent Ron Paul and Jon Huntsman campaigns last week by saying, "In the competition for the GOP's Best in Show, the junkyard dogs are barking."
Now, check out the opening seconds of Ron Paul's new ad, Big Dog:
I'm not sayin', I'm just sayin'. You're welcome.
The ad also features a pretty unmistakable nod to Paul Nation folk hero Guy Fawkes, as the commercial succeeds where Fawkes failed, literally blowing up several government agencies.
Next to Newt Gingrich's latest slice of Wonder Bread™, it's hard to argue with Ron Paul's diminutive assessment of his rival, and while the spot is funny and full of energy, you have to wonder if it's a little too edgy for Iowa. It seems more attenuated to the Paul faithful than heartland voters. For crying out loud, the thing doesn't feature a single American flag, reference to God, or agricultural image of any kind. The Paul campaign would have been much better served by re-cutting this brutal anti-Newt Gingrich ad to TV length.
However, Ron Paul has a comfortable bankroll to expend in the weeks ahead, so this is just the first of many ads that will make the case for Ron Paul to early voting states. His campaign should make sure the next one preaches to the congregation, as well as the choir.
Have a tip we should know? tips@mediaite.com