New Study Looks at How Cable News Fanned the Flames of Trayvon/Zimmerman Story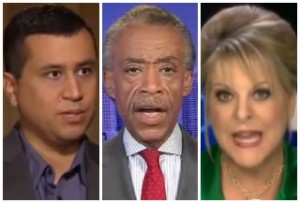 One of the biggest and most-covered news stories of the last few years was undeniably the Trayvon Martin/George Zimmerman story, and a research team at MIT looked into how it spread like wildfire into the media and burst onto the national consciousness. And, no surprise, they found that it was on TV where the fatal shooting of the Florida teenager really took off, because broadcast media's ability to amplify makes it "susceptible to media activists working… to co–create the news and influence the framing of major controversies."
In the study, they tracked the life cycle of the story in five stages, from the time when Martin's death started trickling into the news to when Zimmerman was arrested by local authorities, and in that instance, they say it's a source of general agreement that "public pressure had everything to do with the arrest."
They used some very specific and narrow metrics to study how the story spread, like Twitter hashtags, TV transcripts, "percentage of total physical column-inches" on the front pages of major newspapers, and TV transcripts, all while comparing the coverage from each of those outlets to the "growing number of signatures" on a Change.org petition about the case.
One of the tools they used to track media coverage of the shooting is something called Media Cloud, a service that analyzes key words and trends in media coverage, helping create a map showing how it spread through the press.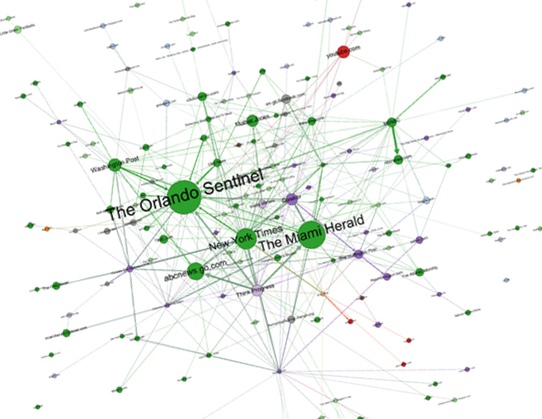 There are several media figures that get called out by name in the report. For example, they attribute the rocketing of the Martin case in the news in mid-March partly to the 'personal involvement of Reverend Al Sharpton," which raised some ethical questions about Sharpton's dual role in the case as TV host and activist.
Nancy Grace gets a brief shoutout as well, and they write that Geraldo Rivera's comments about Martin's hoodie being "as responsible" for his death as Zimmerman helped fuel a shift in the story away from just the shooting and onto the broader "battle over the framing of the story."
In their conclusion, the research team says the Martin case clearly shows how effective and powerful TV news can be at driving a news story like no other outlet can.
Rather than reflecting an outdated approach to influencing public opinion, we believe the national attention brought to the story through broadcast media allowed groups like the Black Youth Project to amplify stories to their online communities, and informed actors like Cunningham who launched campaigns like the Change.org petition…

While broadcast media is powerful in promoting issues to the level of national conversation, it is vulnerable to influence from activists, who are growing more talented in manipulating the dynamics of the participatory news cycle.
You can read the full report here.
[h/t Neiman Lab]
[photo via screengrab]
— —
Follow Josh Feldman on Twitter: @feldmaniac
Have a tip we should know? tips@mediaite.com
Josh Feldman - Senior Editor