New Tone? Paul Krugman Wonders If GOP Are 'Manchurian Candidates' Who Want To 'Bring Down America'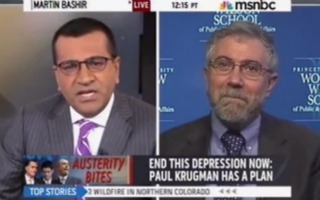 On Friday's Live With Martin Bashir, New York Times economic columnist and Nobel Laureate Paul Krugman added new dimensions to the art of hyperbolic overstatement when he wondered aloud whether the GOP in Congress wholly consisted of moles attempting to "bring down America" from within.

RELATED: Ron Paul Battles Paul Krugman On Bloomberg TV
Krugman, a noted Keynesian, said that President Barack Obama had correctly embraced the counterintuitive notion that the way to avoid succumbing to the fate of debt-laden Greece is to run an unsustainably high national debt.
In good times, as Krugman notes, governments should extract funds from the economy so that when there are lean times – as there have been since the collapse of 2008. It was President George W. Bush who ran deficits in good times, Krugman says, which is to blame for prolonging the recession. Obama is, in fact, doing what he should be doing by continuing to run high debts to keep the economy from falling further into what he describes in his latest book as a "depression."
Krugman has also advocated for raising taxes which even Keynes acknowledged "cools" the economy and should be avoided in times of sluggish economic growth. So, perhaps Krugman is an imperfect Keynesian and rising taxes is less a means to an end and more of an end in itself.
But enough digression. Let's get to the meat of the segment:
When asked by Bashir if House Majority Leader Rep. John Boehner was working to "further undermine America's standing" in his efforts to insist that the debt ceiling not be raised again without accompanying spending cuts, Krugman agreed and said "Sometimes you do wonder if these guys are moles –Manchurian Candidates – for I don't know who."
"If their real job is to bring down America," said Krugman. "Because they really are doing the best they can."
"What [Republicans] will do is threaten to destroy the economy unless they get what they want," said Krugman.
It has been said repeatedly, but only because it so often bears repeating, that it was Krugman who took to his blog in the New York Times hours after Rep. Gabrielle Giffords was shot through the head by an extremist to blame the episode on Republican Congressional Representatives-elect and former Alaska Gov. Sarah Palin's innocuous map. This is also a famed opinion leader who called the Bush White House "evil and stupid."
Even Krugman's former New York Times editorial page colleague Frank Rich had the foresight to call President Bush's brand of evil villainy "banal." But that's just the kind of hedging equivocation that cannot be tolerated. Rich is now an essayist for the New York Times Magazine.
Watch the segment below via MSNBC:
Have a tip we should know? tips@mediaite.com