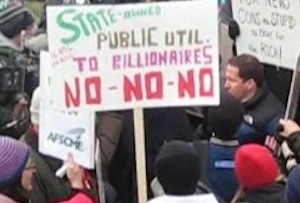 This past weekend Fox News's Mike Tobin found himself amidst a crowd of angry protesters while filing a live report outside the Wisconsin State Capital building in Madison. As has happened before, the predominantly anti-Fox News crowd quickly interrupted the report with chants of "Fox Lies!" and according to Tobin, turned violent, as he exclaimed "a guy just hit me." But a new angle of the alleged assault has been published by an individual eager to demonstrate that Tobin (and yes, Fox News) may have overstated the scale of the "battery," as it was later referred to in another interview.
The clip was apparently recorded and published on LiveLeak by a user named "firebelow," who introduced the clip with the following comment:
Fox News has reported that Mike Tobin was "attacked," "punched," "hit," and "battered," yet has not released any footage of the attack despite the fact it occurred during filming. This is because it didn't happen. How do I know? Because this is the video I took of the incident.
Of course the video is submitted by an individual who is clearly not a fan of Fox News and is trying to promote a specific anti-Fox agenda. However the footage included in the video certainly seems to counter the initial claim that Tobin had been hit. Jostled maybe? Sure.
And in Tobin's defense, I've never found myself filing a live news report amidst a throng of angry protesters, a situation that has to be extremely unnerving, so he can be forgiven for perhaps overstating the situation while on live TV.
Watch the clip created by LiveLeak user "Firebelow" (note that the editorial content of the clip does not reflect the editorial point of view of Mediaite.)
Now watch the original report filed on Sunday below:
Have a tip we should know? tips@mediaite.com
Colby Hall - Founding Editor