New York Legend Sue Simmons Tells Joy Behar Her Younger Replacement Is 'An Old 37'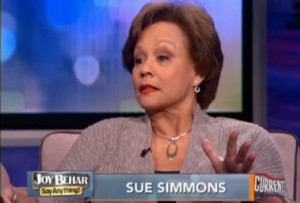 On Tuesday night's edition of Current TV's Joy Behar: Say Anything, residents of the New York area were treated to an interview with former WNBC-4 anchor Sue Simmons, her first since leaving the local channel in June, after a 32-year stint alongside Chuck Scarborough at 11pm, and a 27-year run on Live At Five with the likes of current CNN crank Jack Cafferty. Displaying the kind of loose wit that characterized her career, Simmons joked that her replacement, 37 year-old Shiba Russell, is "an old 37."
Simmons left WNBC in June when the station declined to renew her contract, and while she told host Joy Behar that she "cried every day" following the news, she didn't seem bitter, even about the fact that they kept the 68 year-old Scarborough.
"I was ready to go," Simmons told Behar, adding "Mama always said, 'Never stay too long at the party,' so if you get an inkling you're not wanted, get on out of there.'"
She seemed at peace with the channel's decision, noting, without much argument, that the NBC-owned station felt that co-anchor Chuck Scarborough was more "engaged" than she was. "He would do promos, and when things went wrong, he would go talk to folks about it. I said 'Why are you talking to them, they're just looking at the middle of your forehead while you were talking."
"So you were too real," Behar offered.
Of her replacement, Simmons joked that "she's an old 37," and later added that she "just wished her well and moved on."
The other bit of news to come out of the interview is that Sue Simmons is 70 years old, a logic-defying fact that was not only news to me, but seems to be news in general. Her Wikipedia page lists her as 69, and reports of her departure also lopped off a year, but as this interview attests, she doesn't look or sound anywhere near that.
While it's been years since I watched the local news with any regularity, I grew up watching Sue Simmons on Live At Five (unless it was "Monster Week" on The 4:30 Movie), and on the 11 o'clock news before Johnny Carson came on, and so she occupies a very special place in my media heart, as I'm sure she does for millions of Tri-State residents. It was a real treat to see her looking and sounding so great.
Here's the interview, from Current TV's Joy Behar: Say Anything:
Follow Tommy Christopher (@TommyXtopher) on Twitter.
Have a tip we should know? tips@mediaite.com