New York Post Reporter On Fox And Friends Says Sexual Assaults At OWS Are Going Unreported By Victims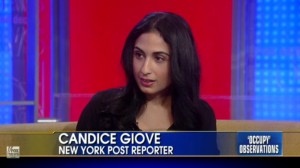 Occupy Wall Street has grown and evolved into its own small city, complete with neighborhoods, cliques, and police forces (not wholly unlike "The Genesis Tub" sketch from The Simpsons). Candice M. Giove, a reporter from the New York Post, decided to spend a night in Zuccotti Park and share her experience with the world. It was pretty much what one would expect — a wide assortment of strangers, including protesters, anarchists, and people looking at the protest like it was a mini-Woodstock. But Giove also discovered a disturbing trend of under-reported sexual assaults, as well a transgender group that was contemplating starting its own police force.
"I'm in a tent that keeps getting flooded, ransacked and robbed," fumes a transgender group leader — a female who identifies as a male.

He said that the transgender group would create its own police force for transgender protesters and females, since an immense distrust loomed over the OWS-created authority.
Giove also write that two men who were allegedly raped didn't report the assaults, somewhat inexplicably, "because [authorities] wanted to take them in an ambulance and . . . do a rape kit." One of the women who pressed charges against her attacker told Giove that she has been involved in the counseling of new victims, "as new ones crop up every day."
This morning, Giove went on FOX and Friends to discuss what she had seen. The sexual assault angle was buried in the middle and brought up relatively quickly, but Giove still painted a larger picture of what was going on in Zuccotti Park. "It's really descended into madness and into chaos," Giove said. "Some of the people that I met genuinely believed in this movement. But others that I met seem to have just joined the party. There's rampant drug use."
Enjoy the clip of Giove below, courtesy of FOX:
Have a tip we should know? tips@mediaite.com