New Yorker Blasts Obama Over Sandy: If Low-Class Area Had Been Hit, You Would Have Already Helped Them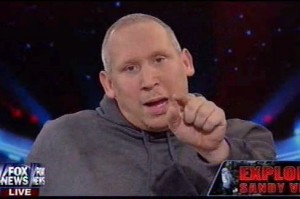 New Yorkers and New Jerseyans hurt by Hurricane Sandy are still waiting for the federal government to take action and provide swift relief to their areas. Much of the ire this week has been contained to the inaction taken in Congress, but a Staten Island resident on Sean Hannity's show tonight made President Obama the subject of his anger, saying that Obama has not fulfilled his promise to cut the red tape, and his area "keep[s] getting the middle finger" from the president.
RELATED: Ron Reagan And Conservative Guest Battle On MSNBC Over Pork Spending In Sandy Relief Bill
This is not Scott McGrath's first cable news appearance complaining about the lack of aid coming to New York. As Hannity pointed out, he's become a spokesman of sorts for residents displaced by the storm. McGrath said he was frustrated by the amount of pork in the hurricane relief bill holding up its passage in Congress. He pointed out that relief came far more quickly in the wake of other devastating storms.
McGrath described how he personally met with Obama over a month ago and was reassured by the president that he would "cut the red tape" and get relief to New Yorkers quickly, and yet he only got power restored to his home last night. When McGrath e-mailed FEMA about the loss of one of his three cars, he got an e-mail back asking why he needs three cars.
Hannity asked McGrath if he had anything to say to the president. McGrath had some harsh words for Obama.
"I want you to come back to my address on Staten Island with my borough president and any other politician and tell me to my face why you're putting this pork in this bill and not helping us, the victims and the middle class of Sandy. If this was some other area, a low-class area, they'd be helping them. But it's the middle-class, working people that keep getting the finger here."
Watch the video below, courtesy of Fox News:
—–
Follow Josh Feldman on Twitter: @feldmaniac
Have a tip we should know? tips@mediaite.com
Josh Feldman - Senior Editor