Newest Cosby Accuser Describes Being Drugged: 'I Immediately Went into Survival Mode'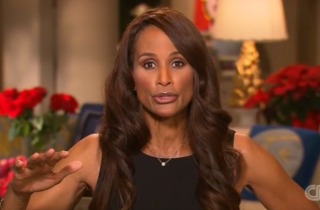 In a Vanity Fair essay, model Beverly Johnson has accused actor Bill Cosby of luring her into his Manhattan apartment in the 1980s and drugging — but not sexually assaulting — her.
Johnson explains in her Vanity Fair piece that she needed a way to "get Hollywood's attention" during an "ugly custody battle" she was in at the time, so she decided to audition for a small role on Cosby's famous The Cosby Show — which led to her encounter with Cosby at his apartment.
In addition to writing about the experience, Johnson appeared on CNN to explain how Cosby drugged her. She says Cosby offered her a cappuccino from his supposedly amazing espresso machine, insisting that it would be the best coffee she would ever have. Johnson resisted at first, but finally gave in. After one sip, she said she started to feel a bit "woozy," and after a second sip she knew she had been drugged.
"It was very powerful, it came on very quickly. The room started to spin. My speech was slurred. I remember him calling me over towards him as if we were going to begin the scene then. He placed his hands on my waist. I remember steadying myself with my hands on his shoulders and I just kind of cocked my head because at that point I knew he had drugged me. And I was just looking at him and I just asked him the question that 'you are a MF, aren't you?'"
Host Alisyn Camerota pointed out that, unlike the other Cosby accusers, Johnson did not lost consciousness and was able to confront Cosby.
"I immediately went into survival mode," Johnson recounted. "I knew that he had drugged me, and I wanted him to know that he had drugged me, so the only word I could get out, and I don't swear, was 'MF,' and I kept saying it to him louder and louder and for a moment he stood there looking at me like I was crazy, and then it happened very quickly — he immediately grabbed me and started to drag me towards the stairs that went downstairs to the outdoors."
She then told of how Cosby took her downstairs, hailed for a taxi, threw her in, and slammed the door.
"For a long time I thought it was something that only happened to me, and that I was somehow responsible. So I kept my secret to myself, believing this truth needed to remain in the darkness," she wrote. "Now that other women have come forward with their nightmare stories, I join them."
Watch the video below, via CNN:
[Image via screengrab]
— —
>>Follow Andrew Desiderio (@forza_desiderio) on Twitter
Have a tip we should know? tips@mediaite.com