Newly Named ABC News Chief Sherwood Vows "Success," Despite Top Talent Declines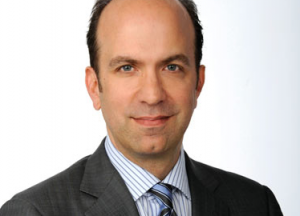 Freshly arrived at ABC News headquarters after flying the red eye from Los Angeles, newly appointed news chief Ben Sherwood told staffers he would "work his heart out" to return the news division to the top.
"This is the greatest building in all of television, and the people who work here are the best in television," said Sherwood, who conceded it was "emotional" to return to ABC after several years.
He may also have a somewhat emotional reaction to the ratings trends for ABC's biggest news stars–after high profile talent shifts on Good Morning America, World News and This Week, each of these shows has seen a drop in viewership–in some cases a big one.

At GMA, ratings in the key demographic of adults 25-54 is off by seven percent versus a year ago. Against arch-rival TODAY on NBC, GMA has lost ground. Since George Stephanopoulos was named main anchor, TODAY's lead has grown from 34 percent to 41 percent.
Flagship World News has also lost ground against evening news leading Nightly News on NBC. Since ABC named Diane Sawyer main anchor, Nightly's lead in terms of total viewers has grown from 895,000 viewers to 1.041 million.
Perhaps the most significant dropoff has been at This Week. Since the highly-hyped–and debated–move of Christiane Amanpour from CNN to ABC's Sunday morning roundtable, viewership is off, and NBC's Meet the Press has expanded its lead–from a 13 percent lead among adults 25-54 before Amanpour's arrival, to a lead of 31 percent today.
Amanpour's executive producer Ian Cameron recently announced his departure, for family reasons.
Have a tip we should know? tips@mediaite.com