News Corp: Broadcasters Will Need More Money, Or You Can Forget Your Sports, Local News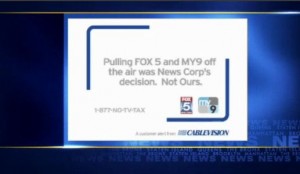 So you can't live without your local news, right? Oh, you can? Okay, well what about sports?
News Corp. president and COO Chase Carey will go to Capitol Hill tomorrow ready to make a not-so-subtle threat to lawmakers on the Senate Subcommittee on Communications: cable companies will simply have to pay more to broadcasters (like, for instance, Fox) or you can pretty much forget about catching your goofy weather guy before going to bed at night. And no more football, either.

Janko Roettgers at GigaOm has obtained a copy of Carey's prepared remarks to the committee, which is looking into the heated debate over retransmission fees, which were the sticking point that left Cablevision viewers without access to Fox for two weeks–even going to the un-American extent to deprive cable customers of the first two games of the World Series.
The word from News Corp. bigs now: you ain't seen nothing yet:
"If we can't sell our content for a price that allows us a fair return on our investment, we will no longer be able to invest in the high quality content that viewers enjoy," (Carey's) statement reads. One of the first items on the chopping block would be sports coverage, which has already seen a migration towards ESPN and other cable channels. He continues:

"Additionally, local news, which is very expensive to produce, could be eliminated entirely or become less local in nature, as advertising alone can no longer cover the hefty production costs. Broadcast channels would become much less desirable, and broadcasters and the people they employ and the viewers they serve, would be irreparably harmed."
Have a tip we should know? [email protected]