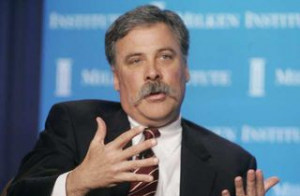 News Corp.'s Chief Operating Officer Chase Carey delivered a bold statement Monday at the National Association of Broadcasters event in Las Vegas that could portend a major change in the future of Fox. After accusing the Barry Diller-backed internet streaming company Aereo of "stealing our signal," Chase said that one possible solution would be to "take the network and turn it into a subscription service." Essentially, removing Fox's over-the-air signal and making the network a cable-only entity.
Variety's David S. Cohen quoted Carey as saying "We believe in our legal rights, we're going to pursue those legal rights fully and completely, and we believe we'll prevail. But we want to be clear. If we can't have our rights properly protected through legal and political avenues, we will pursue business solutions. One such business solution would be to take the network and turn it into a subscription service." He added, "It's not a path we'd love to pursue. But we're not going to sit idly by and let people steal our content."
Aereo, a service that launched in February 2012, works much in the same way that old-fashioned television antennas do, capturing broadcast signals from the air and allowing viewers to watch them. The major differences are that Aereo streams the content to computers and mobile devices rather than TV's and adds a DVR-like feature that allows users to watch content later. The other major difference is that Aereo charges users a monthly fee, allowing them to avoid paying for cable and therefore taking money out of News Corp.'s bottom line.
The broadcast networks collectively sued Aereo in March 2012, but just last week a U.S. court of appeals rejected their suit, allowing Aereo to move forward with a planned national expansion of service. If Fox and the other networks were to follow through with Carey's threats and remove their over-the-air signals, it would mark a major shift in the evolution of television, forcing anyone who wants to watch the big live events typically shown on broadcast networks to pay for a cable subscription service. It would also mark the end of Aereo.
UPDATE: Aereo spokesperson Virginia Lam sent the statement below to Mediaite as a response to News Corp. executive Chase Carey's comments:
"Aereo has invented a simple, convenient way for consumers to utilize an antenna to access free-to-air broadcast television, bringing television access into the modern era for millions of consumers. It's disappointing to hear that Fox believes that consumers should not be permitted to use an antenna to access free-to-air broadcast television. Over 50 million Americans today access television via an antenna. When broadcasters asked Congress for a free license to digitally broadcast on the public's airwaves, they did so with the promise that they would broadcast in the public interest and convenience, and that they would remain free-to-air. Having a television antenna is every American's right."
—
>> Follow Matt Wilstein (@TheMattWilstein) on Twitter
Have a tip we should know? tips@mediaite.com