News Corp Pulls Its Channels From Cablevision Subscribers (Update: And Hulu Access)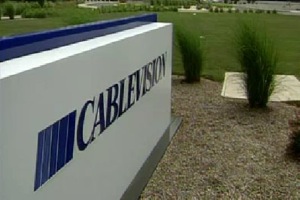 The rift between Cablevision and News Corp continues as the latter has now pulled the plug on the local New York Fox affiliates, Fox 5 and My9, which it owns. They are now also threatening to pull several other channels under their power, though the larger channels like Fox News are as yet unaffected. If they don't settle today, however, subscribers will miss the first game of baseball's National League Championship Series.
According to the AP, both parties resumed talks this afternoon and are anxious to come to an agreement.
"As long as there is a serious effort on the part of Cablevision, we will be at the table," Fox spokesman Scott Grogin said. "We want to settle this as quickly as possible."

Fox channels went black for Cablevision customers early Saturday shortly after midnight, when the both parties' programming deal expired. Such deals spell out how much a cable TV system pays the broadcaster to carry its signals over the cable lineup.
Meanwhile, Cablevision representatives sent out a press release hoping for a speedy agreement and denouncing News Corp for not agreeing to binding arbitration, which would have more quickly solved the problem through the introduction of a third party and was the preferred solution for twenty-seven elected officials from the area. Cablevision agreed to settle the dispute through this means, but because News Corp refused the offer, negotiations are still ongoing.
Update: News Corp has also banned Cablevision subscribers from viewing its content on Hulu.com.
The full Cablevision press release below:
At midnight on October 16, News Corp. pulled the plug on Cablevision customers, blacking out Fox 5 and My9 in more than 3 million NY-area households. Cablevision is calling on News Corp. to immediately put Fox 5 and My9 back on Cablevision and submit to binding arbitration under a neutral third party to reach a fair agreement.

Charles Schueler, Cablevision's executive vice president of communications, said:

"News Corp.'s decision to remove Fox programming from three million Cablevision households is a black eye for broadcast television in America. News Corp has refused to negotiate in good faith and rejected calls from dozens of political leaders to not pull the plug and join Cablevision in binding arbitration. We demand that News Corp. put the viewers ahead of its own greed and immediately restore these channels to our customers and agree to binding arbitration to reach a fair agreement. What is News Corp. afraid of?"

News Corp.'s pattern of destructive tactics has become clear. First, they terrorized Time Warner Cable customers for weeks; then they pulled regional sports and cable channels off Dish Network; and now they have pulled the plug on Fox 5 and My9 for 3 million Cablevision households. Further, they are now threatening to pull their broadcast stations away from Dish Network's 14 million customers in two weeks. It is clear that News Corp. will pull the plug on any viewer, served by any cable, satellite or phone company, to get the money they want.

On Friday, News Corp. even flatly rejected the FCC's call for independent mediation. More than 100 political leaders called upon Cablevision and News Corp. to keep the channels on while they continued to negotiate, and 36 elected officials called upon Cablevision and News Corp. to submit to binding arbitration, to ensure no disruption of programming for customers. Cablevision agreed, but News Corp. rejected this fair approach.

Cablevision already pays News Corp. more than $70 million a year for its channels, and News Corp. is demanding more than $150 million a year for the same exact programming. Cablevision has reached agreements with every other major broadcast station in the market – NBC, ABC, CBS and Univision – and offered News Corp. as much or more for Fox 5 as it pays any of those stations. But News Corp. is continuing to demand more for Fox 5 than Cablevision pays all of the other broadcast stations combined.

Cablevision is employing a variety of direct-to-consumer tactics to alert customers to News Corp.'s decision to pull Fox 5 and My9 off its system. Cablevision customers should urge News Corp. to return the channels immediately by calling 1-877-NO-TV-TAX, visiting www.cablevision.com/fox, joining its Facebook group "Cablevision Viewers Say: No New Fox Fees" or following on Twitter @No_New_Fox_Fees.
Have a tip we should know? tips@mediaite.com