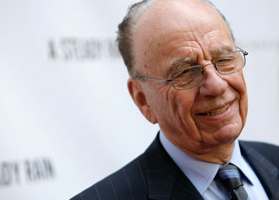 Shares of News Corp. rose Thursday–up more than 18 percent by 1:10 p.m.–as traders reacted to Rupert Murdoch's quarterly earnings conference call Wednesday afternoon. On the call, Murdoch vowed to remain in place as CEO despite the ongoing investigation into the company's involvement in phone hacking, and reported a healthy profit. "We have the most robust balance sheet in our history," Mr. Murdoch said, reporting 2.7 billion dollars in earnings for the fiscal year that ended June 30, up from 2.5 billion the year before.
As The New York Times reports, it was Murdoch's first time meeting with reporters since his testimony before a panel of the British Parliament last month:
The earnings report — which showed growth across News Corporation's vast holdings in film, television, publishing and satellite broadcasting — was a testament to the company's size and diversity.

Yet Mr. Murdoch spent much of his time on Wednesday answering for malfeasance in a small corner of his media empire: The News of the World, the Sunday tabloid he recently closed in Britain after widespread voice mail hacking by its employees was revealed.

He pressed the point that none of the issues at The News of the World had affected the other parts of News Corporation.

"There's been no material impact on our operations outside the closure of News of the World," he said. And he once again insisted that the acts were an aberration and not the kind of behavior that he or the company would ever condone.
Some observers noted the return of a more fiery Murdoch than was on display in London–a public performance that drew sympathy not just for Murdoch's seeming ignorance of some business details, but also for the shaving cream pie thrown at him. Wednesday, as Reuters described Murdoch, he seemed "more lucid about the company's operations and more combative toward inquisitors than he was last month before Parliament."
At one p.m., shares of News Corp. stock were trading at 16.81 (up 2.6), still well shy of the 52-week high of 19.08.
Have a tip we should know? tips@mediaite.com